Tammy & Nyx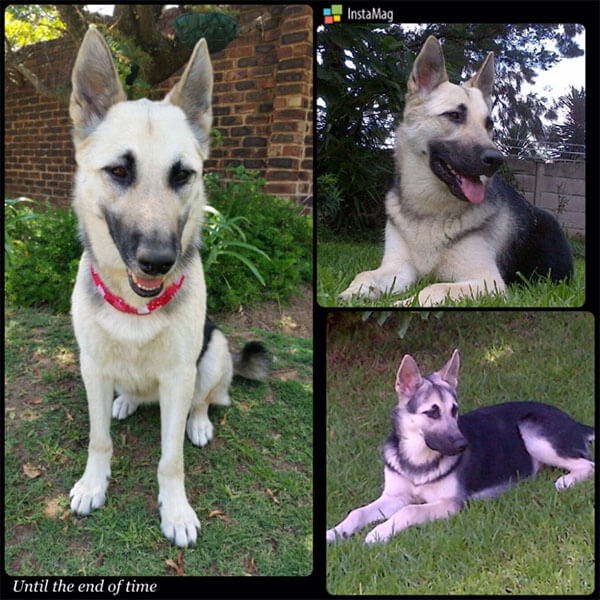 My journey with my incredible companion Nyx
Nyx joined my family almost six years ago as a very cute and naughty puppy. Nyx is a German Shepherd/husky mix who will be 6 years old on 18 September. She was always busy and very destructive but this also taught me the value of stuff. Most of the stuff she destroyed I never replaced as I didn't need it. I always worried about her eating everything as it can be very dangerous. Her favourite is long strips of fabric or socks. I even had to find a laundry basket with tiny holes in that she couldn't pull stuff out of. My lesson patience and a thick skin to some of the stuff she did. I am a paranoid dog mom and panic when they get up to mischief. I learned to panic a bit less and ensure the stiff was packed away. Little did I know that this incredible girl would take me places and have me doing things I never dreamed of.
Nyx loves to work and is very intelligent. Our bond is very strong and she is very in tune with my state of mind and emotional state. As she grew she taught me more and more about myself. She always pushes me out of my comfort zone and challenges me to become better at everything. I am so very grateful that this girl is in my life. She has brought me through some really tough times and loved me when I know I wasn't the nicest person. A constant in my world with her quiet calm presence.
Her obedience eventually became good enough and was better than I had ever achieved so we started competing. I May add that oom Johan pushed me very hard and was very picky about my obedience. My nerves are terrible and we battled but we pushed on. Oom Johan and I took each competition results and worked on the things that weren't great. I learnt to accept that each time we went into the ring it was just another day and we started doing a lot better. We are now at Novice level. In an effort to become a better owner and handler I have done several seminars with her and I have also done an Animal Behaviour course.
I tried out all sorts of different things with her like scent detection, tracking, tricks, etc. the ones she enjoys I continue to do as a form of reward. The protection work she is only now doing well in but I used it to build her confidence and give her some independence from me.
This amazing girl has taken me to places and I have experienced many things I would never have thought I would do. She continually challenges me to do better and try new things. I am however the most proud of the therapy work she does. We get to give back with her absolute natural talent and I get to share her with others. She is so calm and unaffected by the environment. She has brought smiles to people's faces, stopped tears and lifted some out of a slump, me included. She is an absolute gift. I have said she is a once in a life time dog. Her natural ability leaves me astounded so frequently and she is a loved member of the SADTC family. So much so that my future goal is to work more with therapy and service dogs. I absolutely love being able to give back. I am a very proud dog mom.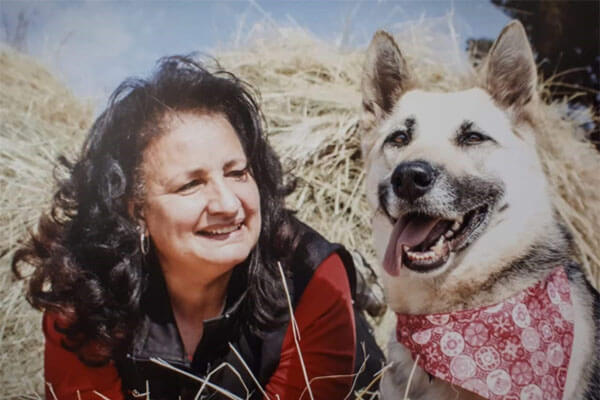 She loves people and her calm, stable demeanour makes her the ideal therapy dog. Even people who don't know her land up falling for her charm. She is a strong willed young lady and when she makes up her mind it can be difficult to change it. As everyone knows treats are a sure way to get her attention. We have used her skills, stability and calmness to help people and other dogs become more comfortable in their environments. Nyx is very independent at home and is no lap dog and she definitely isn't a licker like my other dog children. However you know when she is concerned about you as you can't doubt her presence. She usually quietly puts her head on your lap and waits patiently for your attention. She also nudges away any cell phones or brings a toy and drops it into my lap. There is no rest until she has broken the focus or changed your mood.
Thankfully she isn't the destructive lady she was when she was a puppy. However she is still a busy girl and I have to often figure out games to keep her busy. I work full day and they are left on their own for most of the day. I always feel loved when I get home and the whole neighbourhood knows when I get home. She makes the most awful noise and has to sniff my face before she will start settling down. I look forward to our journey ahead and can't wait to see what new things she will teach me and the new adventures we will tackle together.
This girl has changed my life for the better. I adore and spoil her.
Kind Regards
Tammy
Training type: Therapy Dog Training Alberton