Success Stories
Lizelle
Die heel beste training skool in SA. Ons het almal by julle geleer.
Training type: Dog Training
Beryl
Trained at SADTC many years ago moved to coast but they are the best you and fur child will not go wrong.
Training type: Dog Training
Maryna
Thank you very much for everything that you taught us. He is doing really well and the time spend at your school was definitely worth every minute. Thanks for everything.
Training type: Dog Training Albermarle
Nicole & Joshua
We had a great first lesson.
Training type: Dog Training Glenvista
Chantezé
I enjoyed my lesson and training.
Training type: Dog Training Parkdene
Kunal
We did attend training on Saturday. Roco done the down stays well again with the help of the carpet. We making some good progress now.
Training type: Dog Training Lenasia
Sinovia
I really enjoyed the lesson so much thank you! It was relaxed and I felt welcome. Looking forward to my journey with Uska.
Training type: Dog Training Alberante
Ray
Loved it. And appreciate Chris taking the time to actually get our pups to do certain things, showcasing what is possible with experience and building confidence.
Looking forward to the journey with you guys all the way thru to some protection work with Storm.
Training type: Dog Training Lonehill
Frans
It is still early days but I am satisfied. I am doing the homework the sit and down is going well.
Training type: Dog Training Nigel
Erika
Duke and I had a great time and I am super excited to be back on Saturday again! You are all amazing humans thanks for that!
Training type: Dog Training New Redruth
Kunal
Hi Christine, just an update of Saturday
I brought the mat to training and let Roco perform the down stays on the mat and he done it perfectly, it really made a big difference. John was really happy and impressed by this .
Training type: Dog Training Lenasia
Megan
Please pass on my thanks to Keith for being an amazing instructor as well as having patience and helping Kiara and I.
Training type: Dog Training Albermarle
JP
Hi Romayne,
Our instructor was great. We have learned a lot over the past few months, please tell Tammy that we enjoyed her classes very much.
We had a great time with our dogs the past few months and will definitely see you guys again in the future.
Training type: Dog Training Alberton
Sharon
Hi Biata had a great lesson with Keith he managed to fix a few things which I was still getting wrong with his walking, as for the afternoon he was ready for another lesson!
Kind regards thanks for everything will persevere with my "crazy".
Training type: Dog Training Vaal
Sharon
Hi Biata thanks for asking we are getting there. Had my son and his collie and Goldie for a few days so Lindt had some friends. He has no off switch! The two were completely exhausted and my Lindt was still playing 🙈.
I am persevering we will get there, at least I've seen now that he's also okay with other dogs I was getting worried.
Training type: Dog Training Vaal
Tonia
Hope you are well and thanks for following up with us. The weather was freezing on the Friday after we saw you so didn't go for a walk. Simba was exhausted hehe!
She walked with him yesterday and it went well apparently. He was very disappointed to get such a short walk though chuckle!
Training type: Dog Training Vaal
Linda
Hi Biata,
Only started lessons with him yesterday after Tonia went home. Simba is a quick learner and I just wish I had followed thru with this type of training sooner – I will keep you posted on his progress.
Training type: Dog Training Vaal
Ruby
This family from Thabazimbi had a break-in and the dog was hurt trying to protect the family/property, it was nervous of black bags afterwards. We did a private lesson with the family and the video below shows the improvement regarding the dogs fear of the bags
My mom has been working on the black bags. Ruby is now less scared of them. And bites and plays with them. So they are slowly getting better.
From what I understand the things my mom have worked on she is better. My mom can see slight improvements. So think she has learnt a lot from the lesson and is now applying it to the situation.
Training type: Dog Training Thabazimbi
Jackie
Hi Romayne
As always I loved the class, Alice also had lots of fun and that is what it is all about to learn and have fun with my little miss.
See you Saturday
Training type: Dog Training Bassonia
Natanya & Dagger
Hi,
It was fantastic thank you. Chris is a brilliant trainer. Looking forward to this coming Saturday.
Appreciate it.
Training type: Dog Training Springs
Charmain
Thanks Christine and I have to let you know that Eddie and I really enjoyed your class. See you on Saturday.
Training type: Dog Training Alberton
Danijela
I hope Oliver will go through all training that you guys have and that we will be regular clients for many years
He is amazing boy and hopefully he will put his guard down and show everybody what he really is
Training type: Dog Training New Redruth
Natasha
Good day
I am happy with the first lesson as I learnt how to correct Kobe in walking, getting his attention for listening, as well as that way more treats are needed as bribery and they work!
I look forward to the next one 🙂
Training type: Dog Training Kibler Park
Brian
Hi Romayne,
It was great (and entertaining) as always.
Training type: Dog Training Kensington
Lara
Hi Biata,
Thank you for all your hard work and dedication to Zeeva. We appreciate you.
Training type: Dog Training Heidelberg
Cherisa
Hi Christine
We are doing the training with him daily. It is going very well.
I just want to thank you. I feel much better after Saturday's training, and the fact the we could have him one side and train with him.
Training type: Dog Training Meyerton
Carmen
Hi Romayne
It was VERY cold!
But it was still amazing! Chris has a wealth of knowledge and it's great going through it again because I have forgotten so much since Colin was in puppy class.
Charlotte had a ball and loved playing (bullying) the other pups 🙂
Can't wait for this week!
Training type: Dog Training Flora Cliffe
Angelique
Hi Christine,
Thanks so much for the feedback, I really appreciate it.
We are all always very excited to come to school and look forward to seeing you next week 🙂
Have a stunning day.
Training type: Dog Training Boksburg
Elmarie
Hi Christine
Just to give some feedback. Playtime is great again. I have purchased a few new toys i.e soccer ball that they share. Tyres on a rope and ball on a rope that I alternate so that they don't play with the same thing to long.
Thank you so much for your advise
Training type: Dog Training Polokwane
Wouter
Hello Romayne,
It was very insightful. I am very satisfied with the level of experience from the instructors.
I do realize that I have many challenges ahead with my reactive boy, but I am extremely positive that I and Trigger both will learn more every day as the course goes along. I now realize how much there is to learn and how important it is to train the right way.
And that is all because of the great attitude and positivity from you guys. I am extremely glad I chose SADTC for Trigger's education.
Training type: Dog Training Meyerton
Marie
Hi
I loved every minute of it.
I have no complaints about the training and the methods. Thank you for what you are doing I think it is wonderful.
Training type: Dog Training Bedfordview
Kelvin
Have some of the top trainers in the world over and some great feedback on hello pieter.
Training type: Puppy Training Northgate
Tina
Please count us in for training in July, would love to resume classes with you guys!
Training type: Puppy Training Bordeaux
Nicole
Hi Christine
The first lesson was lovely thank you 🙂 The instructions were simple and easy to remember for practice during the week.
Training type: Puppy Training Brackenhurst
Pearl
Thank you so much for my 1st lesson. It was most amazing! I suffered from 1st lesson jitters. I'm looking forward to my stay at SADTC. I loved my 1st lesson. I thank God that I've found you.
Stay Blessed, With Thanks
Training type: Puppy Training Ennerdale
JP
Hi Christine,
Belinda and I enjoyed the first lesson. We practiced the "Leave it" and "down" commands a few times this week as requested by the instructor and can already see improvement.
We don't have the down command nailed yet as we have to shape the movement every time with the treat but we'll get there.
Training type: Puppy Training Alberton
Derrick & Dolly
Hi,
We enjoyed it, we weren't sure where to be initially but found our way. The instructors know what they are doing.
Training type: Puppy Training Alberton
Deseré
My journey with SADTC started a little different than most. I had a deep desire to learn how to speak with dogs and looked for a training school that could teach me this. I had a very senior Labrador at the time that was already very well trained when I got him through a rescue and he taught me more about dogs than I could ever have imagined. It was because of him that I wanted to know how to be better for my dog. I didn't only want to know how to train a dog, I wanted to know why. There were a few instructors courses online, but after reading their profile and the amazing reviews from previous students, there was no other choice than S.A.D.T.C for me.
I booked my leave with my 'adult job' and started my level 1 instructors course. It was two whole weeks of dogs, dogs and more dogs! I was in paradise! I remember the first night of the course everyone had these big reasons and dreams what they would do with their instructors course once they are done, but for me it was a little more intimate, it was about my dogs presently and those still to come.
Just before I started the course, my husband and I adopted our Vicky. A senior Staffordshire Bull Terrier with the most loving personality. She was to be a companion to our senior labby. During my instructors course, I had a very sad goodbye with my Labrador. I was lucky to be between a group of people who understood the impact something like this can have and Chris and Christine gave me so much support. And plenty of comforting hugs. I will never forget that. They even allowed me to take Vicky in for an assessment to see if she was coping with all the changes happening around her. I saw there that it's not about the money for them, they do this for the dogs.
A little while later, our Odin came to us. Also a rescue from Stafford Rescue. He was a little over a year old and had no previous training. Where to take him for training was an obvious choice. We drive 45minutes every Saturday to go to training at S.A.D.T.C and I would not change it for the world. He has grown so much since being there. We had class with Sandra and Keith, who were absolutely phenomenal. (Not surprising because we know where they got there training😉 ) Even having done the instructors course, I still learn at every lesson we go to. The years of experience that the instructors bring is priceless.
Odin has come into his own and he learns faster than I can keep up… I think he is training me. He is such a smoocher and loves attention, Mr Smooth Operator. He is always close to me and follows me to every room. As much as he loves wrestling with Vicky, he also enjoys her nurturing him. They have bonded very closely in a very short period of time and it is inspiring to see the trust and devotion that they give to each other and to us, even after having gone through hardships. We have only been with the club for 5 months now and the changes are tremendous. Vicky has been with Biata for behaviour shaping which has helped us so much. And Romayne, she has been amazing! Her gentleness and passion is inspiring, always there to assist over phone or email and giving extra love when our babies stayed at the Canine country club.
Being at the club is being part of a family. Always having someone to count on and always having guidance. We are privileged to have found our way to S.A.D.T.C and want to thank them for everything they have done for us so far. Our relationship with Vicky and Odin is growing closer and stronger because of what they teach us.
Training type: Dog Training Paulshof
Pearl
To Whom It May Concern
Thank you so much for my 1st lesson. It was most amazing! I suffered from 1st lesson jitters. I'm looking fowardr to my stay at SADTC. I loved my 1st lesson. I thank God that I've found you. Stay Blessed.
With thanks
Pearl
Training type: Dog Training Ennerdale
Michelle
Morning Christine,
Training was amazing, really enjoyed it and Chris is an awesome trainer!
And the vetkoek were very nice. Looking forward to this Saturday!
Training type: Dog Training Brackendowns
Pearl
I received a referral to you guys from Reynard – And according to him there is no other training facility to even consider, and according to him Christine is an amazing trainer! I was looking forward to the training to have a better bond with my dog and have him obey me.
Thank you
Michelle
Training type: Dog Training Brackendowns
Sandra
In 2013 I became the proud mommy of a beautiful German shepherd boy, Ace, and we started training at another club. I had so many problems at the previous club with the way they trained, the methods they used and poor socialisation of the dogs that I decided I owe it to my boy to get the proper training he needed.
In July 2013 Ace and I started our journey with SADTC. He was so scared and my first lesson all I did was to hang on to his leash for dear life – he just wanted to go back to the car and was not interested in any training. Luckily we ended up with Biata as our instructor and with lots of love and patience (and even more treats), we started seeing progress! Sadly, I lost my boy to bloat but I am forever grateful for him and all our beautiful memories.
May 2017 my life was turned upside down with the most gorgeous little German shepherd girl named Psoli (pronounced Sou-lee). I cannot begin to describe the impact this girl had on my life! She gives me unconditional love, follows me around like a shadow, loves to pose for photos but is also as naughty as sin! She is in love with 2 beautiful Dobermans (Naxos and Knox) and Nyx is her best friend.
Psoli is a busy girl and she gets up very (very!) early in the mornings. She will lick and bully me until I get up just after 4am to play ball outside.
She has two 9 year old Jack Russell sisters at home but they are not interested in playing with her anymore and hence the decision to adopt a friend to play with. So watch this space … we will introduce her new brother soon!
I went through a very tough time in 2017 when my husband passed away and this little girl gave me so much love and comfort during the worst time of my life and helped to heal my soul. I would not have survived without the love and affection of my fur-baby. I love her so much and will forever be grateful because I have her in my life (and I also spoil her rotten!).
When I started training, I was so impress with SADTC that I enrolled for the instructor course and that changed my life! Chris, Christine and Biata are always willing to share knowledge and to help where needed, no matter how big or small the problem is.
Saturday is officially my favourite day of the week and I usually come with a big bag of treats for the dogs. At SADTC you not only train your dog but you become part of the family and I have made friends for life!
Kind regards
Sandra
Training type: Dog Training Daleside
Sindera
Rylee joined our family 2 and a half years ago as a 6-week-old puppy. We already had 5 small breed dogs but were ready to have a medium breed dog in the family. Being a family that only knew about puppy socializing classes, we enrolled Rylee in a puppy obedience course. Everything went well and Rylee grew up to be a well socialized, obedient dog who knew basic commands.
All was going well until one day, four armed men walked into the family house. Rylee's first instinct was to protect but at the threat of shooting her, we had stopped Rylee and contained her.
After the robbery, Rylee's temperament changed. She started snapping at the smaller dogs and would become very aggressive if we had something in our hands. The simple task of taking a photo with a cellphone became an impossible task as Rylee would try and attack if you lifted the phone. Her aggression towards us and our smaller dogs became worse as the weeks went by. I came across SADTC while driving to work and decided to contact them. They were very understanding of Rylee's behaviour and assured us that basic obedience training would assist in improving Rylee's self-confidence.
We joined SADTC in February 2019 with the intention of only completing the 12-week BHO course, but we were so impressed with Rylee's improvement that we decided to stay on. SADTC has taught us so much about training your dog, observing your dogs body language as well as how important the role of the handler is. I can say that my self-confidence as a handler has improved since joining SADTC and I use the same techniques learnt at classes to teach our small breed dogs at home. To our surprise, many of the commands learnt at training have helped with other behavioural problems we were experiencing with Rylee, like teaching her to 'stay' when we open our back gate, as she would frantically run to the back yard, running over our small breed dogs. A simple command such as 'leave' as become very important to us as we still experience issues with Rylee encountering other dogs. We are also able to get Rylee to calm down when she gets super excited when playing with her tyre.
We were surprised at the different classes offered by SADTC and so we joined agility and bite work classes. Rylee's improvement at agility has been slow due to a previous injury sustained as a puppy, but we will continue to attend classes with the hope of strengthening her leg (and improving her handler's patience).
I am so happy with the techniques learnt at SADTC as well as the variance in techniques. When one way doesn't work, our friendly instructors always have another trick up their sleeves.
We will continue to be a part of the SADTC family for as long as possible as we still have so much to learn, and I thoroughly enjoy the quality bonding time given to us at classes and during homework sessions.
Thank you SADTC for the difference you have made in our lives, and for not giving up on Rylee.
Training type: Dog Behavioural Training Alberton
Sherri & Lexi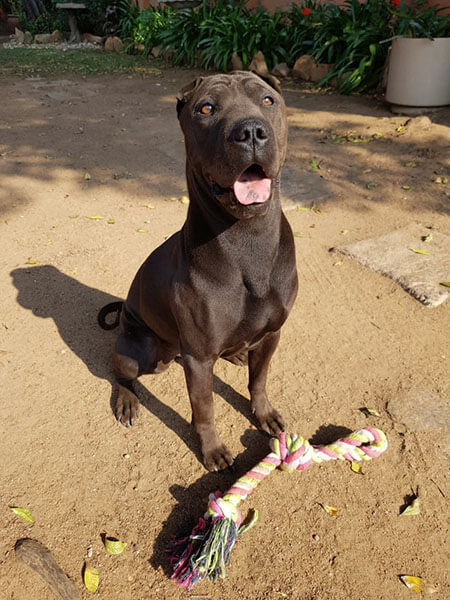 Lexi came into my life when I was going through a very difficult time. I bonded with her the moment I saw her picture.
When she was about 6 months old, I met my amazing partner and we decided to move in together shortly afterwards, but we were apprehensive because he had 6 cats. We decided to seek out a dog behaviorist and sadly 3 different behaviorists told us that she would never be able to be around the cats without chasing and hurting them.
I wasn't prepared to give up hope though, so we tried an obedience school in Sandton and although we weren't very happy we still continued trying.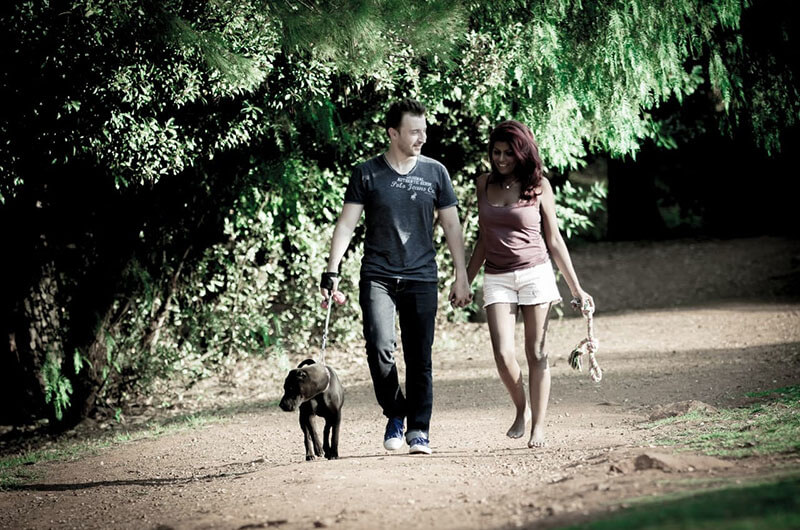 A few weeks into her training I saw a Facebook post about the instructors course at SADTC and figured that if I went for the course I would be able to learn how to train Lexi myself. So I registered for the course and boy was I amazed!
When I first met Christine, Chris & Biata and started the course, I was in awe of their skills. They used methods that were uniquely special to SADTC and it was clear from day one that their 40+ years of experience aren't without merit.
Everyone at SADTC was kind and understanding. The instructors and other students all help and care for each other in ways you wont find anywhere else.
SADTC became family from then on.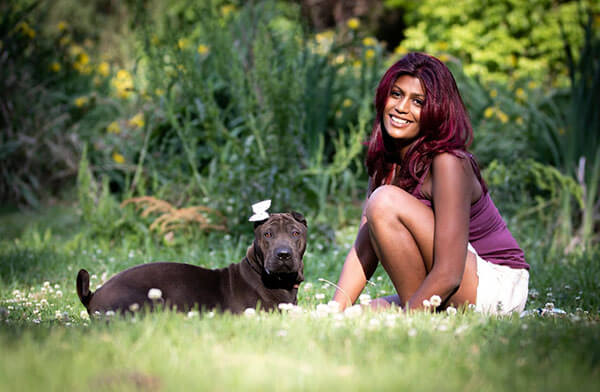 Lexi is a completely different dog now: She is calm and gets along with our cats so well and that's all because SADTC never gave up on us. SADTC has become a huge part of our lives and even though we achieved our goal of integrating our animals we keep going back every week because we love training and we learn something new every week.
Christine pushes both Lexi and I to achieve things we never thought were possible and we have become a stronger team & family because of the SADTC family. SADTC is not just a club; it's a place we can call home.
Training type: Dog Training Sandton
Shane & Chilli
Straight after, I enrolled him at SADTC as we couldn't get enough. I couldn't get over how his personality was changing. He was going up to a few people to get scratches and treats. He was understanding what I wanted from him.
After enrolling him in bite work, he became a new dog. He had this new found confidence. He realises he no longer has to be scared of people, even big scary men. He now defends instead of hiding behind me.
Now he walks up to everyone, demands scratches and if they stop scratching, he nudges for more scratches. It's been nearly 2 years that Chilli and I have been at SADTC and I am so proud of what we have accomplished and we still have so much more to look forward to.
I will forever be grateful to SADTC! They have changed our lives like I never though possible. I trust Chilli with all of me and I know he feels the same. The bond we share is truly one of a kind. Best dog in town!
Training type: Dog Training
Christopher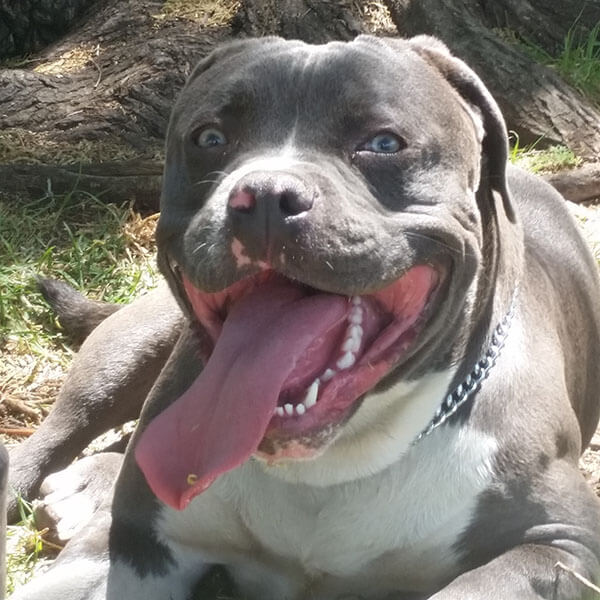 It's been an absolutely phenomenal experience joining S.A.D.T.C and it came when I desperately needed something solid to focus on and keep me going.
I'm hooked for life.
Best Regards
Christopher & Kaiser
Training type: Dog Training Dalpark
Woola
"Aw, what a gorgeous boy! What breed is he?"
"Well he's a …. he's…….ummm …… he's my half-a-horse and I love him!"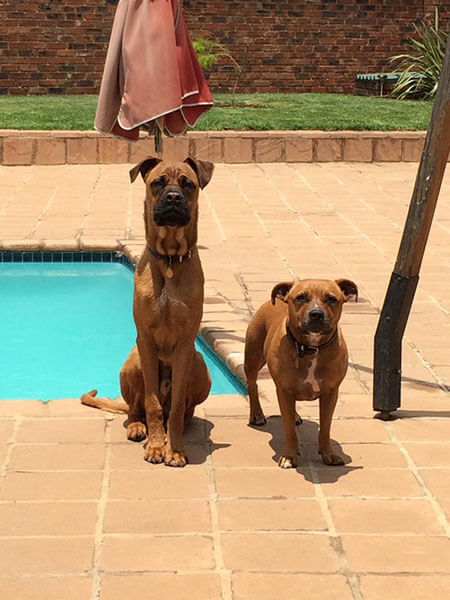 Woola came into my life 5 years ago as a 3-month old puppy when I was quite happy with my 2 Staffies and not looking for another child. But clearly, he was looking for me. We found him late one night with his head stuck in the electric gate of the home opposite ours. Horrific images flashed through my mind of what could happen if the home-owners came home and opened the gate without looking at it (as we all do most of the time). I rushed back home, grabbed a bottle of cooking oil and poured it over him to lubricate him well and pulled him out of the gate. Without thinking I took him home and only then pondered on what to do with him. When my then-husband asked if we should keep him, my response was, "if Judy will let him stay."
I joined SADTC 9 years ago when my monster-child Judy, a beautiful Staffie, was just a pup. She was a wild child and needed some rules, something that I had never learnt to apply to my paw kids. So, I scoured the Net, searched local papers and interrogated my friends and acquaintances to find the right School for my Monster. My search brought me to SADTC. And I've never looked back. Judy's first year of training was fantastic and I debunked all the myths about Staffies being untrainable. She won trophies and certificates in Obedience, Agility and Manwork.
Judy unfortunately became extremely dog-aggressive. We persevered for a further year but eventually the emotion of her aggressive behaviour became too much for me and, sadly, I left SADTC. So, when this strange little foundling happened upon us, it was Judy's decision. And, thankfully, she acquiesced and allowed him to stay. Of course, I immediately knew what I had to do – enrol him at SADTC.
That was 5 years ago.
But why did I go back to SADTC?
Quite simply because they're family. There is a care and concern that one finds among the handlers and instructors at SADTC that makes going to school each week and back again after the holidays each year a no-brainer. It goes way beyond our children – it's a soul-fit. Going to school is more than teaching your dog and being with other like-minded people, its being part of a group of people who truly care; if you're not at school they're concerned about your well-being; there's no judgement only support and love. And when things in your life go pear-shaped, here's a bunch of wonderful nutty people who will just hold your hand through it all and keep you going one "on the move recall" at a time.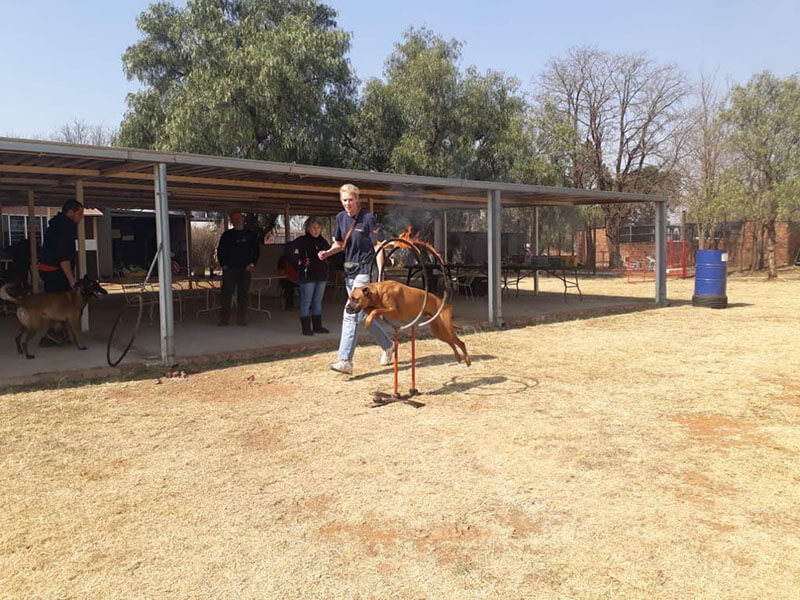 SADTC is the type of place that gets under your skin. If any one of us handlers put in just one ounce of the amount of the effort that Chris, Christine and the instructors put in, I think the world would definitely be a better place. I only wish that most of the newer handlers would get more involved and stay longer at school after their class to see what goes on and enjoy the life of the school. Because it's in between classes and at other events where the enjoyment of being part of the school really starts. This year Christine encouraged me to compete for real. It was at an Open Show at Goldfields and the excitement of seeing how Woola performed "out there" in the real world was amazing. I think the fact that I got a first didn't hurt either. But seeing how the SADTC entrants into the competition fared – well we took 1st, 2nd and 3rd places – that speaks volumes for the standard of training that we receive at SADTC. Then there's the Demo that we did at the Jeep Show – Woola learned to jump through fire-hoops. I was really skeptical at first because he's a real scaredy-cat sometimes but he taught me to trust him and showed me how he would jump through hoops for me.
And speaking about what Woola has taught me, well where do I start? He's taught me the big and small things in life – that expensive toys are ignored but an old bicycle tyre being thrown and caught is the best part of the day. What's truly important and what's not – that, as the passengers in a dirty car, they will be the last to judge me but if we don't go to school today, well that's unforgiveable! or like the fact that the bathroom is not mine and mine alone, it's a communal gathering place. I've learnt to appreciate different things – although I miss them all day when I'm at work, at least there I don't have dog hair in my nose. And just how different my two pawdkids are – like Judy's cool, soft, satin licky kisses and Woola's hot, wet sandpaper tongue. Woola is addicted to body cream – the moment I've applied it to my legs, it's crucial that he licks it off immediately. And forget about sleeping where you want to in the bed – I get to sleep in the space where Woola and Judy are not, and I've learnt to be happy with that, so much so that I don't sleep so well anymore if I'm not the in the middle of a canine sandwich.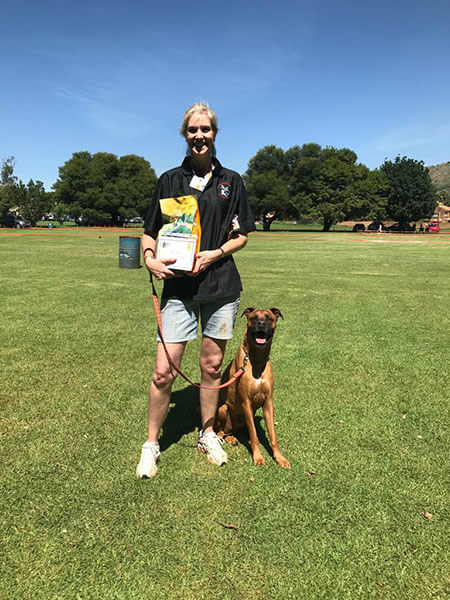 And Woola has also taught me a lot about himself. Although he looks and acts goofy most of the time, I've discovered that he's highly intelligent (when it suits him) and that we only have to do something once for him to adopt it as the norm. At home his retrieve is gold-standard and he understands an entire conversation of instructions from me and carries them out to the letter. At school, well I know that the way he spits his dumbbell at me is a bit of a joke in our class. And he simply refuses to release his retrieve object. He has an incredible nose that will sniff out things in the most obscure corners of the house; but oh, if I could only put that to work at school – is formal scent-work is non-existent. As I was saying about his intelligence – he knows how to push my buttons and then how to make me fall in love with him.
Woola has taught me patience – I call him my Velcro child because he will not leave me alone. From the fridge, to the counter, to the stove, he will follow me around the kitchen. From my bed to the wardrobe to my dressing table, he follows me in the bedroom. But I've learnt that he needs to do that and no amount of trying to get him out the way will help so I take a deep breath and make sure I don't fall over him and know that I will never be alone in my home.
He may be a goof-ball but there have been some really tough times in the past few years that I know I would not have survived had it not been for my kids. Not only did they give me a reason to get up in the morning but their unconditional love and special brand of salve on the heart-hurt is something that can never be bought and no pharmaceutical company can replicate.
My pawdkids are my life.
To all those who say "they're just dogs" I say, you haven't truly lived until you've spooned with a Great Dane-cross-Boxer.
He's my half-a-horse and I love him.
Training type: Dog Training Germiston
Charlie
DOG OF THE MONTH: CHARLIE (Breed: Labrador X)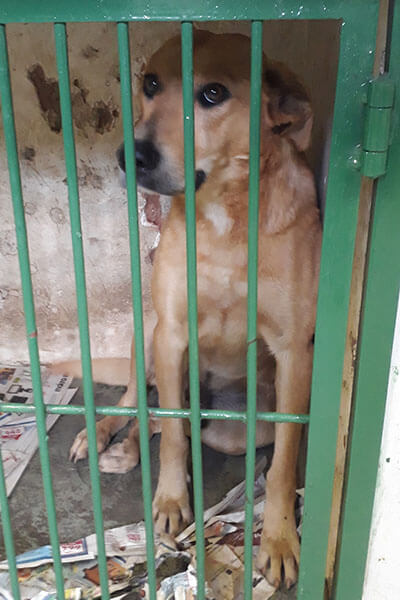 On 10th April 2019 at 9am our family friend, Jackie the Jack Russel, died at the old age of 17 years. At 4pm that afternoon as I was driving home from work a message came through on our street group chat that there was a lost dog in our road and that it had been lying in front of a yard in our street since the morning and had not moved. I drove past the house (2 houses away from our home) and saw a miserable looking brown dog there. I went home and told my mom that the least we could do was to give Jackie's food to this dog and give him a warm bed for the night and then take him to the pound the next day.
We went across the road with a leash – his tail started wagging, he got up and approached us as if to say "where the hell have you been?". He did not hesitate and walked home with us where he was fed, given water and a warm blanket to sleep on. He was very shy. Very skinny and tick infested. That was a Wednesday. We could only take him to the pound on the Friday so he got to spend two nights with us. During this time my mom looked after him during the day and started removing ticks from his ears – but it was so much, the more she removed the more they appeared. It was really bad. He was biting the ticks off his body. Yet, as he lay there at night and we sat next to him rubbing his head he would look at us and wag his tail. This is when he crept into my heart and our journey started.
He was taken to the Animal Anti-Cruelty League (AACL) Johannesburg on the Friday (I decided to do the adoption properly and go through the 14 day pound period) – he was so nervous that he even pooped in the bakkie. At the AACL he put on his brake pads at the door and they had to carry him in. We completed the forms making sure that if he was unclaimed, we would have first option for adoption. I couldn't wait 14 days and that very next morning, the Saturday, I was there to pay him a visit. There he was in the hospital waiting to be medically checked, in a small cage. His eyes were brown and big and I cried for a long time that day – he really did not know what he had done wrong. So, I marked the calendar, 14 days it would be.
In the meantime, we filled out the adoption forms and got the home check done. All good to go. However, during the 14 day period he was moved from the hospital to the kennels and placed with a German Shephard – they had a terrible fight and he was back in the hospital for wounds to his neck, throat and shoulder. The 14 days was extended to ensure that he had recovered from this ordeal. We went to visit him again during this time and he was in good spirits in the hospital with a cat in a cage above him as his friend. All this time I waited.
Finally, the day came that I was told that he had remained unclaimed, he had been vaccinated, sterilised, microchipped and his wounds had healed – I could fetch him. On the 3rd May 2019, on my birthday, I got one of my most treasured birthday presents that I can remember, Charlie.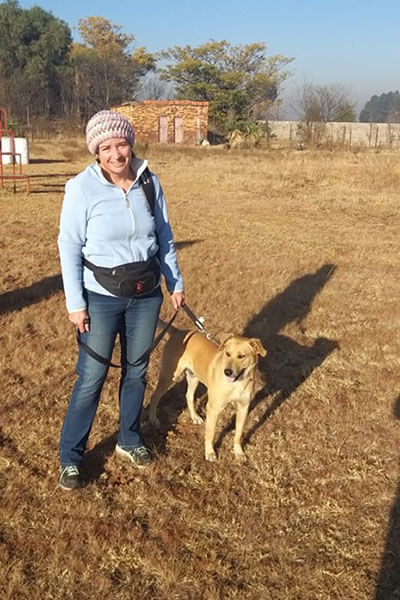 In the meantime, while I was waiting for all of this to happen, I decided to enquire about dog training schools – I didn't know Charlie's history and his obedience and because we love running, walking, fishing and camping I couldn't see myself leaving the poor guy at home whenever we went away. I was scared that he would take the road as soon as he had an opportunity to do so. Plus, my mom was looking to adopt a Jack Russel again and I needed to know that he would be social with the new addition to the family. Training was not an option, it was a must. I made a few enquiries and one dog training school told me that Charlie was too old, the AACL estimated him to be 4 years old. Another dog training school just never responded. The only one that seemed interested in helping me out with Charlie was SADTC. I got an immediate response from Romayne who took the time to explain to me that they have trained many rescue dogs and furthermore that a Labrador is actually an intelligent breed and that I would have no issues training him.
So, on the 3rd May 2019, on my birthday, I got my birthday present in the form of a living creature AND I signed him up for the 12 week basic home obedience course at SADTC to start in June.
Our first lesson was weird: first we could not get him into the car. He put on his brake pads again and we had to carry him into the car. He got car sick. But once at the school he was quite excited – seeing dogs around him and all that sniffing and so many friendly faces.
Biata gave him his first treat and he fell in love with her immediately. It was all new to both me and Charlie – sit, down – I learnt that a dog can count to 4 – "Charlie sit…sit…sit…SIT!". I also realised that I needed to learn my left from my right again as Mark took us on left turns and right turns. Poor Charlie didn't know what he had to do as we turned in the opposite direction to all his class mates.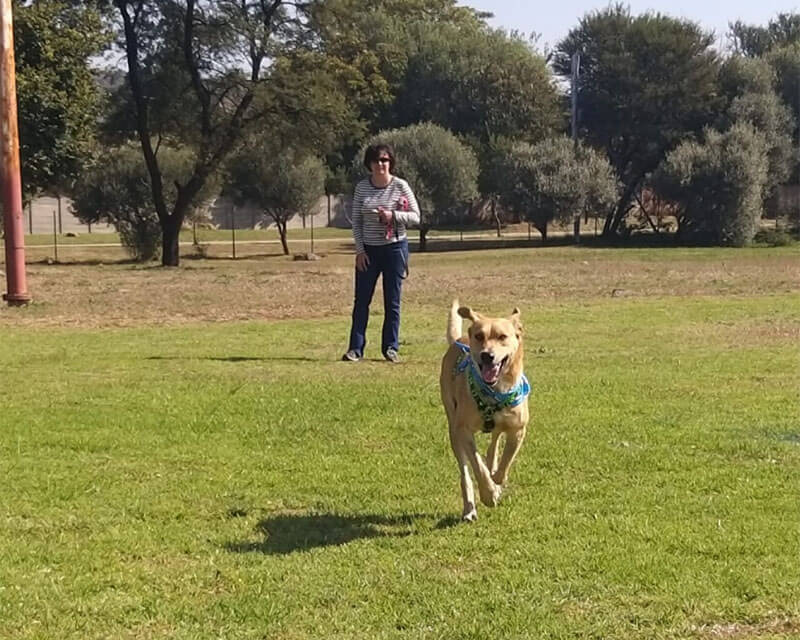 We are now going into our last few weeks of training and my best friend's personality is just shining right through. He no longer worries about the car: as soon as that door is open and the car seat cover is on – he is in there waiting for us. He no longer bounces around on the back seat like a nervous wreck, he sits calmly watching out the window. He is so excited to go road tripping whether it be to the school or to our weekend walks. We are now at that point where he will 'sit' at the number one count and no longer at number 4 count and he can actually stay 'down' and he is learning to walk so nicely at heel when we go to the park. The best is when we go to our favourite pub, he goes with us, and he is so good. He bothers nobody and is such a pleasure to take with and we get so many compliments!
Yolande taught us a sniffing game with boxes – where we hide the Magic Mouse and a piece of liver under a box and he finds it. This is his favourite game. He just loves playing and being kept busy. My Saturdays are now Charlie's Saturdays and I see us doing this for a while still to come. There is still a lot of work and a lot of practice and a huge amount of patience.
Where do I want to be with Charlie one day? I want to be able to go camping with him and walk to the ablution blocks with him by my side with no leash, then telling him to wait for me at the door and when I come out, he is there waiting for me. We want to go fishing with him and spend the day in front of the river with him close by and not running away. That is what I want to do with Charlie and the only way to do it is to continue training and to continue practicing – the biggest part of this course is the homework.
You cannot expect to get the results you want if you don't practice and you don't have patience. The bond that is developing between me and Charlie (because of the training) is unbreakable and the more we learn from each other, through the training, the more we become closer and closer. At SADTC it is not just about getting your dog to be a "good dog", it is also about getting to know your dog, to understand your dog and above all, to know why are you teaching your dog the way you do. There is always an explanation with every command.
My story of Charlie is similar to that of a Dog's Purpose – Jackie died and she sent a skinny, brown, long legged dog to our home. He had a bit of the coordinates wrong and ended up two houses away, but he waited, just as she had told him to. After that, everything just fell into place. I am happy to say that this journey has no ending.
Training type: Dog Training Meredale
Sam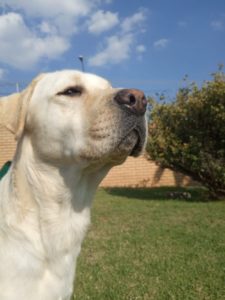 We rescued Sam from the Booysens SPCA about 4 months ago. My wife had gone there to enquire about some medication and decided to have a look around the kennels. As soon as she saw Sam, she wanted him! Knowing I didn't want any more dogs, (we already have one chocolate Lab at home), she asked Charmaine (who works at the SPCA and also trains here at SADTC) to put him in the run so she could take a photo of him. My wife thought then that he may be deaf as he didn't respond to any calls. She talked me into looking at him and despite her telling me that I would have to walk him (she was going for a knee replacement) and also train him, I decided to take him as he looked like a good dog. The vet at the SPCA checked him out and confirmed he was deaf.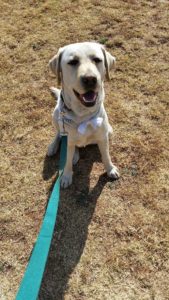 We decided that a bit of training would be of benefit, even though he was a gentle and calm dog, so we joined the beginner class at SADTC. The training was pretty much the same for him as for the hearing dogs – the hardest part was attracting his attention if he is not looking in my direction. But being a Labrador, F O O D came to the rescue, and as he loves food (especially Woolworths meat pies stolen whilst being defrosted outside), as long as I had food in my hand he would do anything I asked of him! So after three months of training with the help of Sandra our instructor at SADTC, he had learned all the basic commands and walks on the lead quite nicely. He is doing very well at home and has adjusted to his new routine, and loves going for his morning walks around Jackson Street dam.
We don't know much about his previous history, only that he was rescued from a property where he and other dogs had been abandoned. He was a bit thin when we got him but was in good condition otherwise.
I must say that having a deaf dog is no more difficult than having a hearing dog. You just have to be careful when maneuvering the cars, and making sure he doesn't get a chance to run out of the gate, but he gets up to the same mischief as any other dog. Sam is a wonderful addition to our family. My wife kisses him more than she kisses me!
Regards
John Woolway
Training type: Dog Training Alberton
Hayley
Our first lesson went very well, I was quite nervous as Penny can be quite anxious around other dogs but Keith was quick to show me how to better handle her and correct undesired behaviours. I really appreciated the individual attention he gave us, and his gentle but firm manner. We are really looking forward to lesson number 2!
Training type: Dog Training Weltevreden Park
Bianca
I really enjoyed the training ❤ Chris is very knowledgeable about the subject of training pups and he was very helpful with correcting errors that we didn't even know we were making. He was very practical and showed us examples of what he meant when he gave instructions.
I was definitely satisfied and enjoyed the class immensely.
Training type: Dog Training Glen Marais
Mallisa
Hi Romayne
My husband and daughter really enjoyed the first session. Thor also really enjoyed the outing and was really well behaved. Keith was very informative and gave them a good understanding of what is required.
All in all, a very enjoyable experience.
Training type: Dog Training Bassonia
Dilana
Hi Romayne,
I was totally stressed out before class as Tyson was not familiar with other big dogs. He was a bit unruly but Keith quickly showed us how to calm him and take his attention away from the "danger" he most likely thought he was in.
Keith is a wonderful trainer and so good with Tyson. Can't wait for our 2nd class.
Training type: Dog Training Heidelberg
Marcella
Good day
I can't tell who loved the first lesson more, me or my doggies! It was great refresher from when I did level 1 and it was great to have the dogs there with me to understand even more. I also realised my dogs have a lot more confidence than I do, however I feel the longer I stick to this I will be able to get my own confidence out.
The dogs had a blast and now every time I go to the car or grab the leads they get super excited!! Can't want to be there on Saturday once again!
Regards
Marcella
Training type: Dog Training Bedfordview
Tammy & Nyx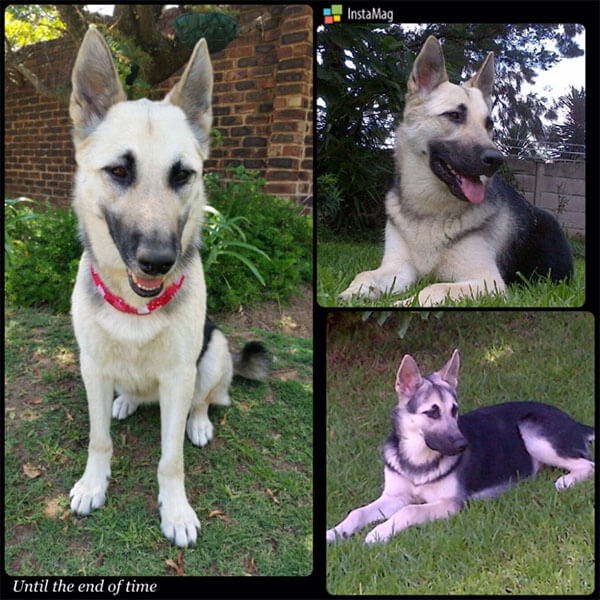 My journey with my incredible companion Nyx
Nyx joined my family almost six years ago as a very cute and naughty puppy. Nyx is a German Shepherd/husky mix who will be 6 years old on 18 September. She was always busy and very destructive but this also taught me the value of stuff. Most of the stuff she destroyed I never replaced as I didn't need it. I always worried about her eating everything as it can be very dangerous. Her favourite is long strips of fabric or socks. I even had to find a laundry basket with tiny holes in that she couldn't pull stuff out of. My lesson patience and a thick skin to some of the stuff she did. I am a paranoid dog mom and panic when they get up to mischief. I learned to panic a bit less and ensure the stiff was packed away. Little did I know that this incredible girl would take me places and have me doing things I never dreamed of.
Nyx loves to work and is very intelligent. Our bond is very strong and she is very in tune with my state of mind and emotional state. As she grew she taught me more and more about myself. She always pushes me out of my comfort zone and challenges me to become better at everything. I am so very grateful that this girl is in my life. She has brought me through some really tough times and loved me when I know I wasn't the nicest person. A constant in my world with her quiet calm presence.
Her obedience eventually became good enough and was better than I had ever achieved so we started competing. I May add that oom Johan pushed me very hard and was very picky about my obedience. My nerves are terrible and we battled but we pushed on. Oom Johan and I took each competition results and worked on the things that weren't great. I learnt to accept that each time we went into the ring it was just another day and we started doing a lot better. We are now at Novice level. In an effort to become a better owner and handler I have done several seminars with her and I have also done an Animal Behaviour course.
I tried out all sorts of different things with her like scent detection, tracking, tricks, etc. the ones she enjoys I continue to do as a form of reward. The protection work she is only now doing well in but I used it to build her confidence and give her some independence from me.
This amazing girl has taken me to places and I have experienced many things I would never have thought I would do. She continually challenges me to do better and try new things. I am however the most proud of the therapy work she does. We get to give back with her absolute natural talent and I get to share her with others. She is so calm and unaffected by the environment. She has brought smiles to people's faces, stopped tears and lifted some out of a slump, me included. She is an absolute gift. I have said she is a once in a life time dog. Her natural ability leaves me astounded so frequently and she is a loved member of the SADTC family. So much so that my future goal is to work more with therapy and service dogs. I absolutely love being able to give back. I am a very proud dog mom.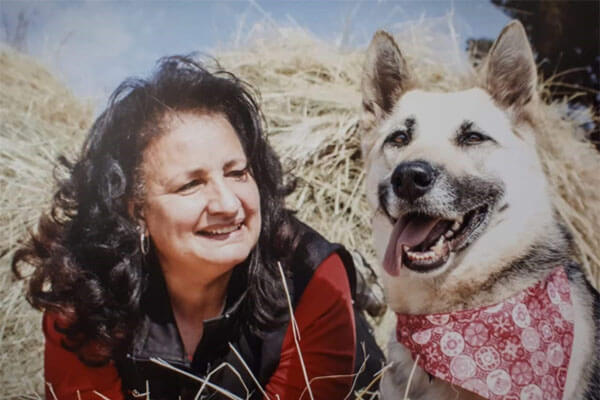 She loves people and her calm, stable demeanour makes her the ideal therapy dog. Even people who don't know her land up falling for her charm. She is a strong willed young lady and when she makes up her mind it can be difficult to change it. As everyone knows treats are a sure way to get her attention. We have used her skills, stability and calmness to help people and other dogs become more comfortable in their environments. Nyx is very independent at home and is no lap dog and she definitely isn't a licker like my other dog children. However you know when she is concerned about you as you can't doubt her presence. She usually quietly puts her head on your lap and waits patiently for your attention. She also nudges away any cell phones or brings a toy and drops it into my lap. There is no rest until she has broken the focus or changed your mood.
Thankfully she isn't the destructive lady she was when she was a puppy. However she is still a busy girl and I have to often figure out games to keep her busy. I work full day and they are left on their own for most of the day. I always feel loved when I get home and the whole neighbourhood knows when I get home. She makes the most awful noise and has to sniff my face before she will start settling down. I look forward to our journey ahead and can't wait to see what new things she will teach me and the new adventures we will tackle together.
This girl has changed my life for the better. I adore and spoil her.
Kind Regards
Tammy
Training type: Therapy Dog Training Alberton
Lida
Hi!
Lynn enjoyed it a lot and could not tell me enough how awesome it was. I would say you guys are doing a great job.
Regards
Lida
Training type: Dog Training Meyerton
Adam
Hi Romayne
First puppy class went very well.
Bullet was very excited I struggle to get him to calm down but that uncle took him for a while and Bullet started to calm down.
The lesson was good and it showed us a lot on how to just handle the pup. I look forward to the rest of the lessons cause I'm sure Bullet will do well.
Thanks
Adam
Training type: Puppy Training New Redruth
Lizette
Hi There!
I am so happy that I decided to come back to SADTC for Moya's puppy socialization. The knowledge Chris share in the class is unbelievable and it opened my eyes once again.
Thank You
Lizette
Training type: Dog Training Albermarle
Shawn
Hi SADTC
Chris first lesson was solid and informative as always!
The Club is very lucky to have him as the first communication between puppy and owner relationship building at puppy class.
Kind regards
Shawn
Training type: Dog Training Walkers Fruit Farms
Jana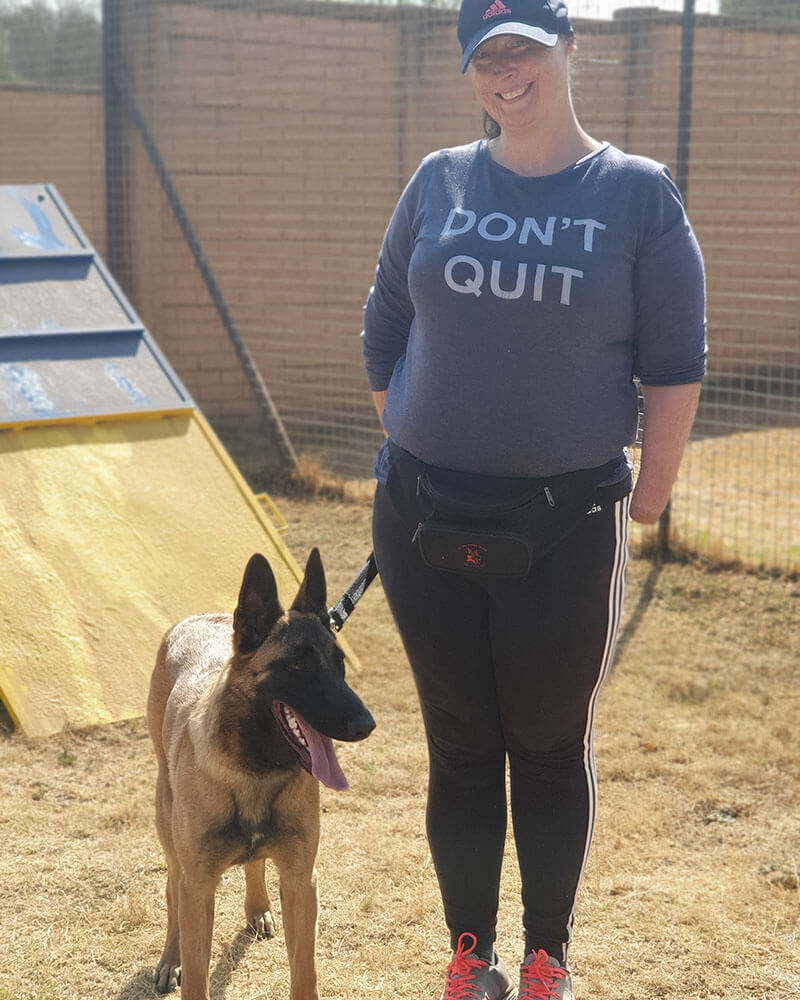 What an inspiration!
This lady was injured in an accident and sustained quite a few injuries including burns and damage to her left arm.
Her and her husband joined us with Vega as a puppy. This is an extremely intense Malinois with a lot of drive and is A LOT of dog for first time Malinois owners who absolutely adore this little girl.
We had to adjust a few ways of doing things to accommodate. Every week this lady is back trying again and again to get it right. She is so driven to succeed and is very passionate about her handling.
It is awesome to watch their progress week on week. It isn't always smiles, last week she left in tears (not the happy kind) and today she left in tears of joy. Because it looks like we've finally got the combination right for her heelwork.
SADTC's job is to teach the method and then guide the handler and dog to make it work for them
Training type: Dog Training Walkers Fruit Farms
Sam
We adopted Chilli Dogg one day unexpectedly from the SPCA. When we first saw him, he was covered in mange, he could hardly stand, let alone walk as he had no muscles in his back legs. We made up our minds there and then that we couldn't leave without him.
We brought him up as best we could (with the limited knowledge that we had) but his previous traumatic experiences affected him in a huge way.
He was extremely nervous of men. He avoided every uneasy situation. He used to eat stones to give the illusion that his "stomach was full".
I did the Level 1 Instructors Course. WOW. I learnt so much. My mind was blown by how all of a sudden I started understanding Chilli so much more.
On Level 2 and 3 we were allowed to bring our dogs. Chilli was so nervous. New smells, new people, new dogs. It was all so overwhelming that he threw up everywhere.
We struggled for the first few days to get him to approach anyone but we persevered and we made it to the end of Level 3 (with a little help from me crawling through the mattress to give Chilli the confidence to do it).
Straight after, I enrolled him at SADTC as we couldn't get enough. I couldn't get over how his personality was changing. He was going up to a few people to get scratches and treats. He was understanding what I wanted from him.
After enrolling him in bite work, he became a new dog. He had this new found confidence. He realises he no longer has to be scared of people, even big scary men. He now defends instead of hiding behind me.
Now he walks up to everyone, demands scratches and if they stop scratching, he nudges for more scratches.
It's been nearly 2 years that Chilli and I have been at SADTC and I am so proud of what we have accomplished and we still have so much more to still look forward to.
I will forever be grateful to SADTC! They have changed our lives like I never thought possible. I trust Chilli with all of me and I know he feels the same.
The bond we share is truly one of a kind. BEST dog in town!
Training type: Dog Instructor Course Level 1 KwaZulu Natal
Jerry
Jerry (SARAC) completed our Level 1 (SADTC sponsored) & level 2 (member sponsored) instructor courses and has done so much good for the animals. We are proud to be associated with him and SARAC and congratulate him on all the awards he has achieved, the latest one winning the Premier Awards ie SADC 2019, CEO GLOBAL, Pan African Awards.
From Jerry:
Good Morning Christine
Hope all is well with you
Yes we are overwhelmed on winning the Premier Awards ie SADC 2019, CEO GLOBAL, Pan African Awards.
It is because people like you that we are where we are today, I am forever grateful that our path has crossed.
Kind Regards
Jerry
SARAC
Training type: Dog Instructor Course Level 1 & 2
Wendy
Hi.
First lesson was Fabulous. Fabulous. Fabulously informative.
Kind Regards
Wendy
Training type: Dog Training Drumblade
Christos
Hi Romayne
Thank you everything went well.
Chris is very experienced and we and our puppy are in good hands.
Thank you.
Christos
Training type: Dog Training Meyersdal
Shelley
Dear Romanye
I have absolutely loved the lessons and have learnt a lot and I was very satisfied with the instructors.
Kind regards
Shelley
Training type: Dog Training Glenvista
Sandra
Hello Biata
Matilda is doing really well, we've been taking short slow walks and I'm more relaxed as well. As soon as she sees the collar and new lead she sits down and waits for me to put it on her.
Today she met while out on a walk with the husky's and all went smoothly. As I type the huskies are roaming her garden and Matilda is relaxed.
I'm very relieved. Thank you Biata, that collar has made a big difference. And me being a little more confident helps for sure.
You have a lovely and blessed day with your family and animal family.
I'll keep in touch.
Kind Regards
Sandra
Training type: Private Dog Training
Lizette
Hi! We really enjoyed the first three lessons! You are by far the best school that we have attended. The effort, knowledge and passion are beyond compare!.
We really enjoy our Saturdays now and it's definitely a family outing! You guys are amazing!
Training type: Dog Training Vereeniging
Reynard & Crowley
Romayne
I was well impressed with the knowledge and dedication of everybody!! Since Crowley was out of his element and just kept on barking at Christine and the other trainers, (something he has never done before), Christine took me and Crowley one side and got him settled.
I will be working him hard this week to catch up with the training we lost.
Best Regards
Reynard & Crowley
Training type: Dog Training Verwoerdpark
Shanene
We are really happy thus far, it has been a pleasure coming for training and also watching all the other dogs.
We are already learning so much.
Regards
Shanene
Training type: Dog Training Lenasia
Lizelle
Good Morning Romayne
Our arrival was nerve-racking, I wasn't too sure how ZACK would react he went mad just sniffing, running and growling at everything that moved. Biata came to our rescue and assisted us.
The actual training went well, Zack was calmer and I was too.
Our trainer, Sandra is an awesome lady, explaining everything so well and just overall a very kind lady. Zack follow the commands learnt Saturday except to lie down. When his nose touched the ground he lifts his bum so we are training very hard to have it all right by Saturday.
Kind Regards
Lizelle
Training type: Dog Training Verwoerdpark
Christopher
Hi Biata,
Thank you so much for the time you spent with us, I thoroughly enjoyed it and we both look forward to growing in SADTC.
Best regards
Christopher
Training type: Dog Training Dalpark
Gregory
Hi Biata,
All is well with Cassy Thanks. We still try to teach the girls Dog manners as they tend to forget its actually them that need the lessons and not so much the Dogs. Thank you so much for the lesson and the girls were very excited about it.
Greetings
Gregory
Training type: Dog Training Alberton
Lizette
Hi
My husband and I came to the college today for the puppy class introduction and were so impressed! The professionalism and skill blew our minds. You exceeded our greatest expectations! We can't wait to start the puppy training next week!
We please want to find out what the costs will be to enroll our 3 year old cocker spaniel for agility and obedience as well. He has done very basic obedience. And also when can he start?
Training type: Puppy Training Three Rivers
Jessika
Hi Biata,
Rockstar and I really enjoyed your lessons. He has learnt so much.
Jessika
Training type: Dog Training Southcrest
Ryan
I really enjoyed the experience and Odin is a different puppy because of it.
Thank you so much
Ryan
Training type: Puppy Training Albertsdal
Leoni
Hi There
Thank you very much, the lesson was very good. After a rocky start we were able to get going and Chris really helped to show me how to handle her properly.
Thank you for your help and we look forward to the rest of the lessons.
Leoni
Albertsdal
Training type: Dog Training Albertsdal
Nikita
Good afternoon
Max absolutely loves it there and likes everyone. Thank you for the great service that you provide.
Regards
Nikita
Training type: Dog Training Kookrus
Elnedene
Hello Christine
Thank you for your interest.
Saturday's lesson was amazing. Chris has so much insight, knowledge and experience. I practiced what he'd tought us and Wolfie got it right immediately. His leash walking (to mention one thing) improved so much after just the one lesson!!
Thank you very much.
Regards,
Elnedene
Training type: Dog Training Meyerton
Candice & Tank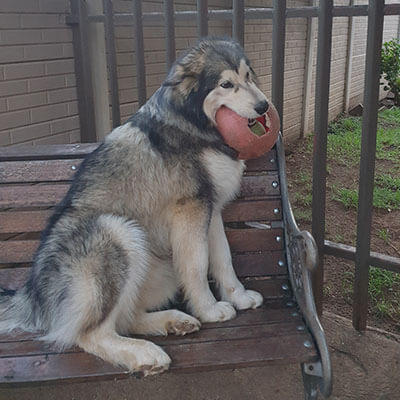 Hey there, I am Tank. I am an Alaskan Malamute who is almost two years old and this is my story.
I was born one day after April Fool's Day and I was destined to go to a family of Malamute admirers who just simply fell in love with me the day they came to see me! I heard the man say that they were "just looking" but he fell hard for me I tell you and the lady, well she was mine from the moment she held me! A few weeks later, they fetched me and brought me to my new home. I was not exactly ready for what happened next. I was sniffed and licked and prodded by an over-zealous German speaking girl-dog named Rose and then I was growled at, snarled at and then ignored by an older boy-dog (who looked exactly like me, just a lot bigger!); his name is Axl. He at least kind of spoke my language but I stayed far away from him.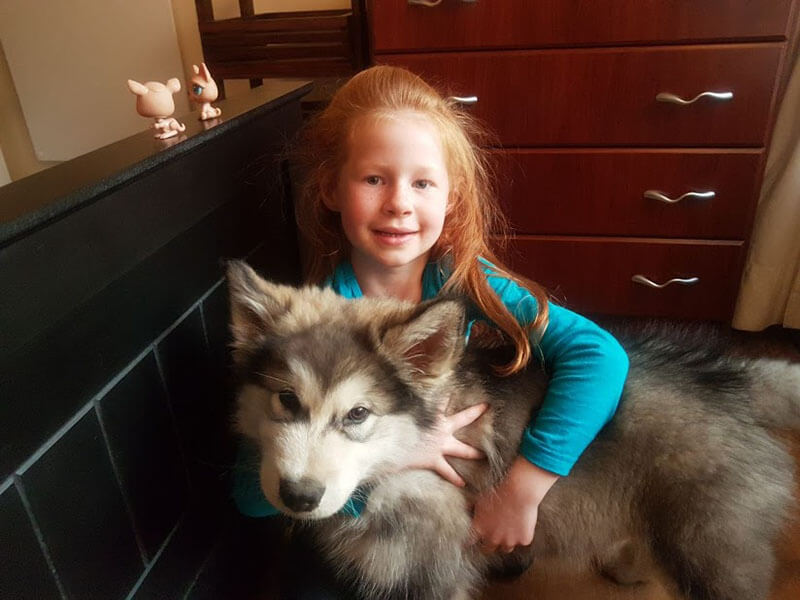 I soon became great friends with the little girl in my new family. Her name is Payton and she is just so loveable. I really love playing with her and following her around the house. I settled in very quickly and even went with my Mom to work for a few weeks until I was old enough to stay at home.
That is when the fun began! Rose is my crazy friend. She tires me out with her endless running up and down, ball chasing and play-fighting. She gets quite mad at me when I get tired and I go rest. She then just carries on barking at dragonflies and birds. My mom has taken me to dog school since I was a small pup and I must say I LOVE going to school every Saturday. I get so many treats!!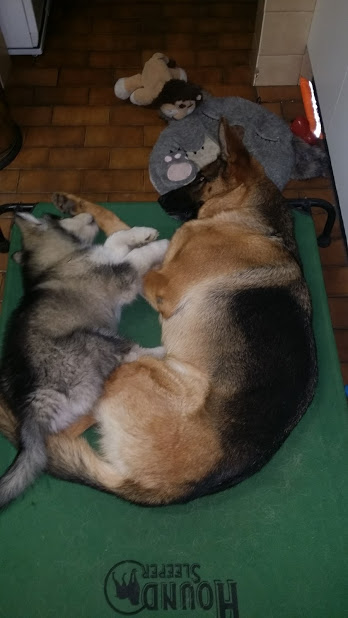 The people just adore me; and well, I adore people too! It's a win-win situation for everyone. I have moved up in classes since I started, and I can be very good…. when I want to be. I absolutely don't enjoy putting funny toys in my mouth and I giggle so often when all the humans try to get me to this thing called "retrieve"! They have tried everything. So, not too long ago I decided to be a bit kind to them, and I actually retrieved Rose's gross Jolly Ball for them! My word, the class erupted with squeals and cheering. If I had known I was going to get so rewarded, I would have done that ages ago!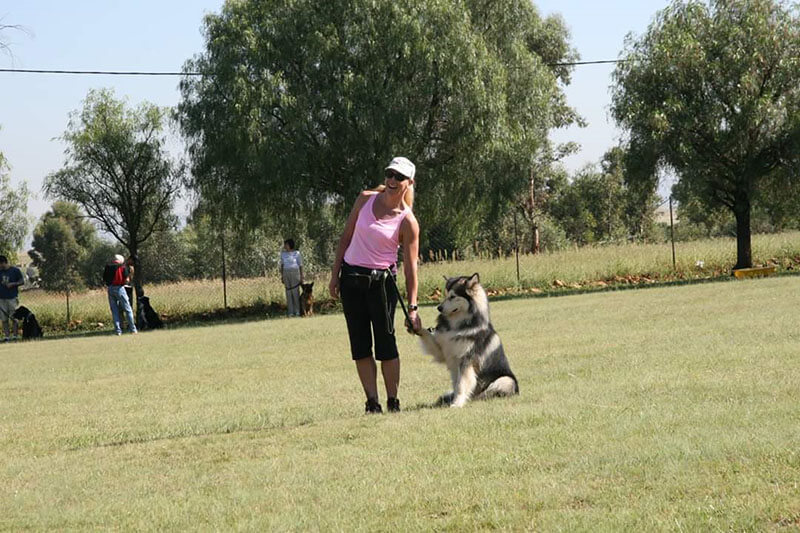 I heard my Mom talking to someone about how much she enjoys spending time with me on a Saturday at SADTC and I must say, I enjoy it too. It's a good time to enjoy her and I can feel how she loves it when we are in class together. Every now and again, I see Payton running around the field with her friend and I get distracted from class; but I try to do my best for my Mom and then I get back into the class thing. She has been quite a push-over for a while now and I take full advantage of it and I train her all the time! But lately she has been quite serious at class and I am now starting to see I better do my down-stays and sit-stays as I get way more treats when I do!
I love my dog school where I meet so many friends; furry and not so furry. And I love my family life and life is just good.
Training type: Dog Training Alberton
Dhameer
I met Spirit in June 2018. I decided on a Rhodesian Ridgeback as I had another Ridgie (Bruno) before and had some of the best moments of my life with him. Unfortunately, at two years of age Bruno became very ill and within a period of a week, I had lost my best friend. I did not want another dog after that as it was difficult to accept the circumstances of his passing however I also have a German Shepherd (Skyla) who became very lonely so after a while, we decided to get a companion and so little Spirit entered our lives.
I got Spirit at 8 weeks of age. I also started looking around for renowned training facilities. After a lot of research, I decided to mail SADTC to see if we could join. I visited on a Saturday and Christine showed me around. I was amazed to see the number of instructors and dogs working. I had been to another training facility with Bruno when he was a puppy but it was nothing compared to what I've since experienced.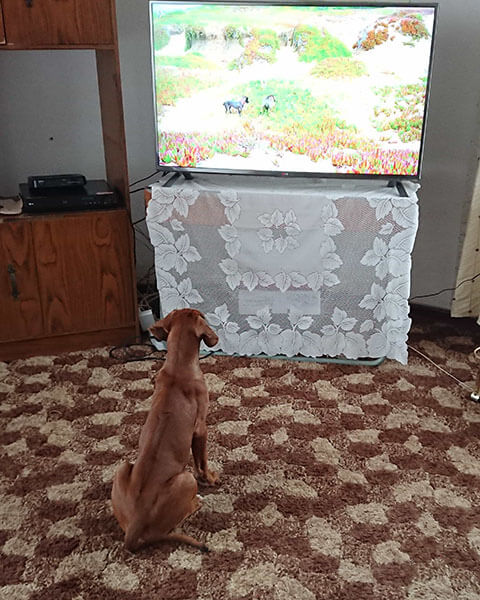 In the first practical class with Chris, all the handlers were asked why we were here. I remember answering that I just wanted to have a strong bond with my dog and to give Spirit the best I can. This still holds true today. I would like him to be the best that he can be and most importantly be a healthy dog. Training has proven to be a lot of fun and Spirit has also gladly provided me with a lot of sore muscles the next day! He is an extremely outgoing dog with tons of energy and although I am the exact opposite I am truly blessed to have him around. There have been many challenges but hard work and awesome help from all of his instructors has made things so much easier.
As time has passed I have come to realize that Spirit is the dog that I needed. You see I thought having a dog in training from an early age would make it easy and in a few months I'd have a super obedient dog. Wow, I was wrong. All of the hurdles have allowed me to try and conquer challenges and this, in turn, has kept me away from all the negativity that we all face in our lives. The lessons learned are not just for training too, it helps in other facets of life as well.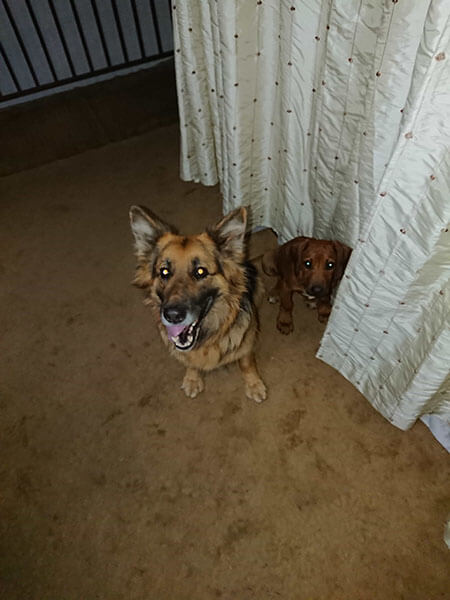 To explain how much Spirit looks forward to Saturday mornings, when we leave home to come to SADTC, he impatiently jumps into the back seat of the car but when it's time to go back home, I have to carry this dog in the car.
At home Spirit mostly spends time lying upside down in the sunny areas of the house. We have to keep an eye on him after he eats in the afternoon as his energy levels are higher and he has a nose that directs him to do disastrous things. He just wonders around the house knocking things over with his nose. It's a creature on its own I guess. He enjoys playing with his toys and standing on the balcony.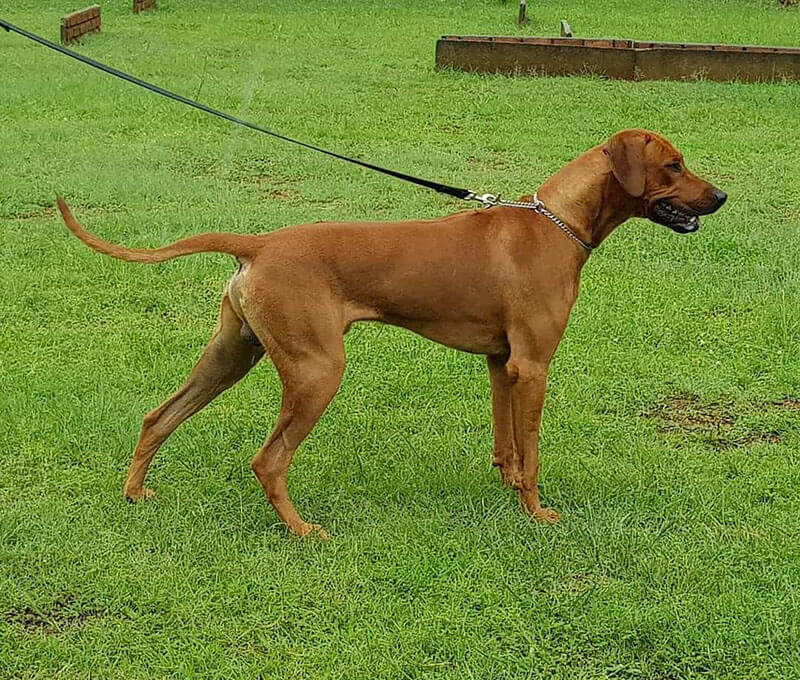 He gets a lot of compliments regarding his build and colour. Apparently, he is wheaten in colour although to a colour blind person(me) he looks very green. He will be entered into the Rhodesian Ridgeback annual show soon and will get to see a lot of his fellow Ridgies which is very exciting as it will also allow me to see character traits of the breed at different ages.
The worst part of my day is at 5 AM when I say goodbye to Skyla and Spirit. We go to the park in the late afternoons to train so that there are more distractions to work with.
I would also like to take this opportunity to thank everyone at SADTC for allowing for such a great environment and fulfilling experience. It is truly humbling to see the relationships people have with their dogs.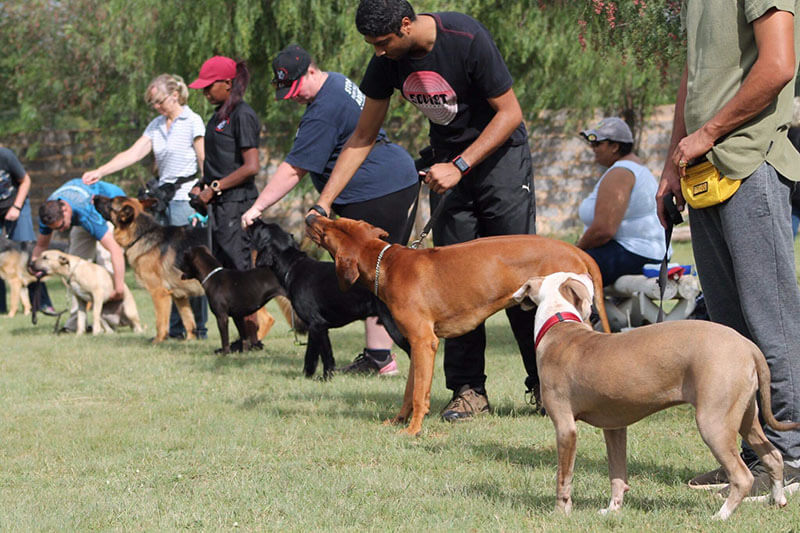 Training type: Dog Training Lenasia
Alessia & Andoni
Hi Christine,
We wanted to thank you for everything you and your amazing team have done for us 🙏🏼 You have been a true blessing in more ways than you guys know.
Please thank Tammy for all the effort and time she has given us, it is truly appreciated ❤she is an amazing trainer, lots of patience with our crazy dog.
Thank you again and I hope the lord blesses you with only an abundance of prosperous years ahead 🙏🏼
Alessia & Andoni
Training type: Dog Training Rosettenville
Avril
Hi Christine,
Wow, thank you so much for the special care and attention that we are receiving to make sure that Napoleon, and Terry and I are receiving the best training.
Regards Avril
Training type: Dog Training Naturena
Martin
Hi Biata,
Cindy and Max arrived safely in Aus and were released from quarantine this morning.
Thanks for all your help, think it made a huge difference.
Martin
Training type: Dog Training Australia
Terry
Hi Christine
Thank you so much for your follow-up mail. It's much appreciated.
I'm very satisfied with the promotion. Although Napoleon and I do have quite a bit of catching up to do, I'm certain that this will encourage us to truly push ourselves to the next level.
The lesson on Saturday was extremely informative. I'm pleased to say that Mark took the time to give feedback on the drills that we ran, what we still need to work on, as well as the areas we need to focus on when training at home. This, in itself, gave me some much-needed reassurance that we'd receive the attention and training we need going forward.
Thank you once again for your mail, Christine. Hope this helps 
Regards, Terry
Training type: Dog Training Naturena
Michelle
Dear Romayne
Thank you for your email and it is great that follow up emails are sent out.
I really enjoyed the first class without my dog and the refresher was great and so was Christine.
Michelle
Training type: Dog Training Mondeor
Greg
I know Luca has enjoyed his training and so have we, he has come on leaps and bounds since starting at SADTC and Mark has being amazing with him and with us.
Regards
Greg
Training type: Dog Training Walkerville
Colleen
Our schnauzer puppy Merlin has had a great time at puppy training. Thanks to Chris for re-teaching me how to be a better parent!
Regards
Colleen
Training type: Dog Training Henley-on-Klip
Arenda
Yes, I really enjoyed Chris's class and I will recommend SADTC to friends and family.
Arenda
Training type: Dog Training Meyerton
Jessie
Hi Biata
Excellent, Charlie has mastered the "down" Portion, Stay and waits for the "eat" command. Fetch was already down pat, but now she has mastered the "drop" command ! I'm ecstatic.
Lol Charlie can play fetch for 5 hours straight so I love the throw stick :)…., my husband said he loves her on the couch but we have mastered the "down" command as sometimes she can be a tad overbearing. No visitors as yet…so will still get to practice when we do get visitors.
Kindest regards
Jessie
Training type: Puppy Training Alberton
Carl
I did a taster day on the Explosives dog course and a day on the Drug detection course, both were very enjoyable.
I realised how much I have learnt from yourself and Chris while there as even though a lot of it was beginner/basic elements I already had as good an understanding as the people on the course and they are all already qualified dog handlers either through the army/police or private (so that was nice).
Carl
Training type: Detection Training United Kingdom
Keith
Hi Christine
Please express our thanks to everyone at SADTC for supporting the Highveld Belgian Shepherd Doc Club Open show on Sunday. We appreciate the support and look forward to seeing many of the competitors back in the ring in future shows.
Well done to SADTC who did exceptionally well at the show once again.
Regards
Keith
Secretary
Training type: Dog Training Highveld
Elliot
Elliot our Mini Schnauzer and the man in the house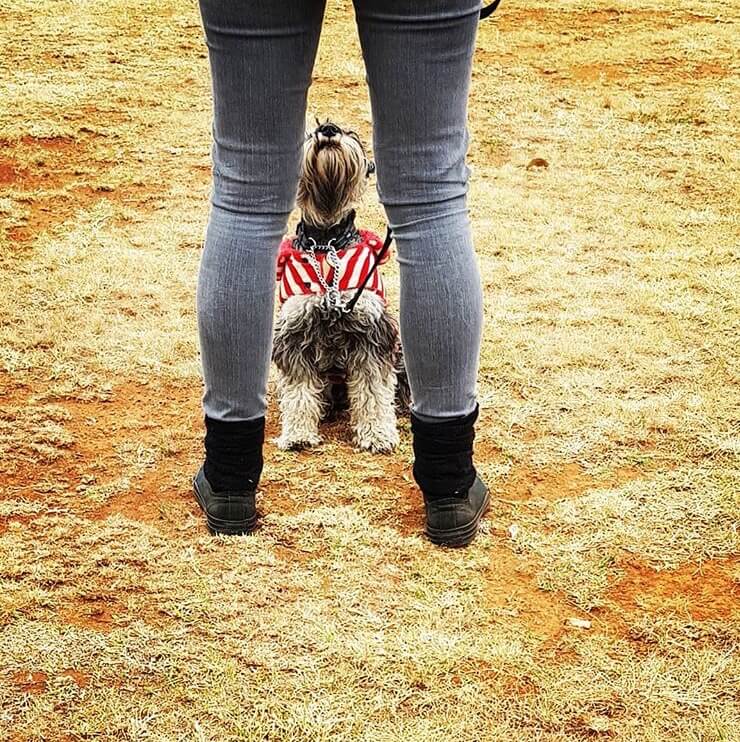 One of the first few words Alexia spoke (apart from Mamma, Dadda and the usual) was "hondjie" and so the begging and pleading started to get a puppy…
I heroically resisted this onslaught until I felt that she was old enough to take responsibility for a dog's well being.
Then the hard part, which type of dog will be suitable for us?
I had a German Shepherd to share my childhood with and it is a memory that I treasure till this day.. He has been gone for 20 years now and I still get emotional thinking about him. Purely for that reason I will never get another one because no dog will ever live up to the memory of what we had together (time and youth equals rose tinted glasses 🙂
I wanted to give Alexia the same magical connection that can only exist between a child and their dog. As she is an only child this dog will have various roles to fulfil – best friend, brother, playmate and protector. This was quite a tall order!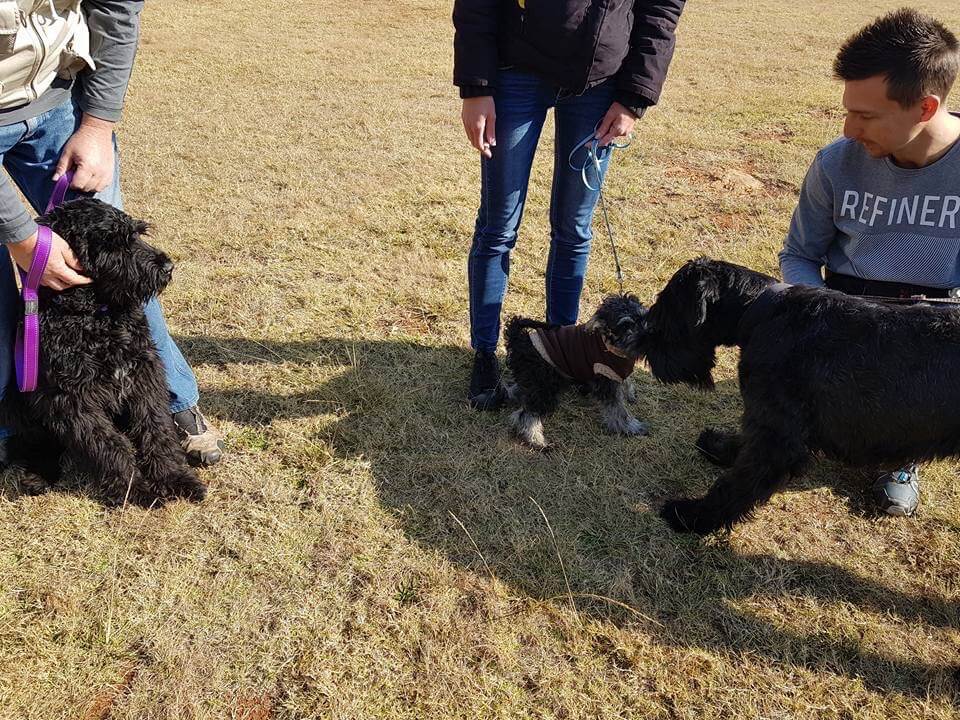 To make a very long story short, a friend of mine took in a rescue schnauzer and over a cup of coffee I fell head over heels in love with this awkward looking, bearded lady called Lily. I have never even seen a schnauzer, new nothing of the breed but the personality I glimpsed that fateful afternoon sent me into a flurry of research. The more I learnt the more I was convinced that this is the dog I've been looking for and about a year later when Alexia turned 7 I brought Elliot home.
And O! the joy.. I do not think that I will ever be able to top that moment for my child. The wonder and love that this scruffy, fluffy being has brought to both our lives cannot be explained to someone that has never experienced a dog's love and devotion.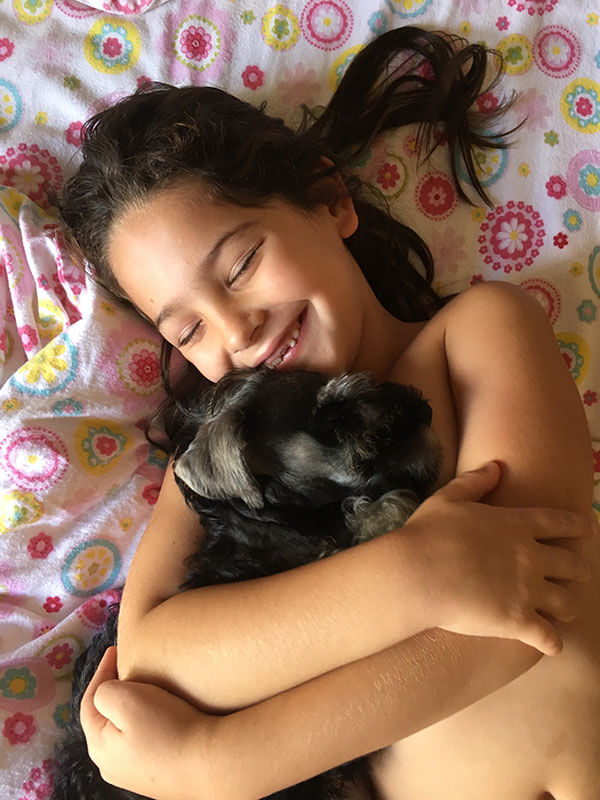 Once the initial euphoria wore off and reality set in, I was like a new mother worrying about food, toys, potty (house) training, shots and off course education 🙂
And that lead me straight to SADTC (thank goodness) and as I never trained a dog before it was literally the blind leading the blind in this case, both myself and Elliot were equally clueless.
Training me proved to be the more difficult part of the arrangement! Elliot quickly figured out that if he can decipher what the big, bearded man talking in a squeaky voice wants, he gets some really premium treats as reward… and so Chris instilled the philosophy in Elliot of "I work for food". Chris, with the patience of Job and an endless supply of love for his furry charges proceeded to lead us through the growing pains of not only basic commands but also how to socialise safely among a hundred other things.
Getting on board with the program I bribed Elliot through his puppy classes, proceeded to Sandra's class (in the big open space outside the safety of the fence:), survived Keith's super energetic classes, had a super chilled run in Mark's class, enjoyed the dignified wisdom Oom Johan imparted on us, moved on to John's classes that was a joy every Saturday and now we are full circle back in Sandra's class which feels like coming home. It is only now that I'm writing this that I grasp the long way that we have come.
And all throughout we were encouraged and guided (me), given treats and scratches (Elliot) and generally just being absorbed into a feeling of community where we are regular fools and shining stars all in one day.. and even being the "mini" in his class filled with big dogs we feel like we belong and can achieve more than what I could comprehend when we started this journey.
Elliot has an abundance of love that he will lavish on anyone in close proximity but most of all he has that mad love a dog has for his human – Alexia. I was lucky enough to get the perfect breed for myself and Alexia, but I have all the instructors at SADTC to thank for the well adjusted, sociable and confident little boy he is today. I'm loving the journey that we are on at the moment and cannot wait to see what this year has in store for us!
Training type: Puppy Training Alberton
Suraiya
Hi Hi
I was very nervous, because it was my first class with Johan. But his way of training is remarkable. He is excellent, on the other hand your school is excellent!!!
I must say thank you to you guys for seeing my dogs potential and moving me up! Clearly this shows you guys are truly honest and not doing this just for the money… because other people would rather keep us in puppy class for a long time so they can make alot of money.
Thanks once again. Hope you have a blessed week!
Training type: Dog Trainers Potchefstroom
Suraiya
Hi, I reached your premises, loaded off my dog and went to stand near a tree near the parking area and oh my God I couldn't believe my eyes and ears. I had Biata and a friend walk up to me, knowing my name and my dogs name, introduced themselves to my dog and I, making me feel so so comfortable and so at home, just so at ease. Talking, asking questions, sharing some of there remarkable knowledge.
They both helped out with my dog, once he was nice and calm they carried on and I decided to walk onto the field.
Immediately a gentleman walked towards me, also a trainer (didn't get his name)but he knew mine, also greeting myself and my dog by our names, checking out my dog, making sure I'm ok with "handling" my dog and sharing his knowledge with me a swell and that was AMAZING!!!
The warm and welcoming feeling from the 2 ladies and the gentleman was AMAZING, the way they do things, the explanations and the eagerness to help was truly something amazing.
I am so so happy that my husband pushed me to attend the first class or I would of been missing out on so much more.
When the class was done, I didn't even wait to drive back home to inform my husband, I immediately called him from SADTC parking area and told him of the great experience I just had, I told him how good they treated me and how professional they are and was happy to drive back home, the minute I reached home I repeated how happy I was and how amazing those 3 people were and he burst out laughing saying you phoned me to tell me this and you really repeating again you clearly are very happy!
I must say, I have been to a lot of training but this is the BEST, if your dog trains here you have really done your best to give your dog the best! I will continue at SADTC it is a great amazing place with very nice people!
Biata, her friend and the gentleman thank you to the 3 of you for making our training there so grate and for welcoming us so nicely also thank you for the loads of help and knowledge shared with me the hours before training started!!
See you guys next Saturday!
Suraiya
Training type: Dog Training Potchefstroom
Dionne
Zeus; our wanna-be Pug.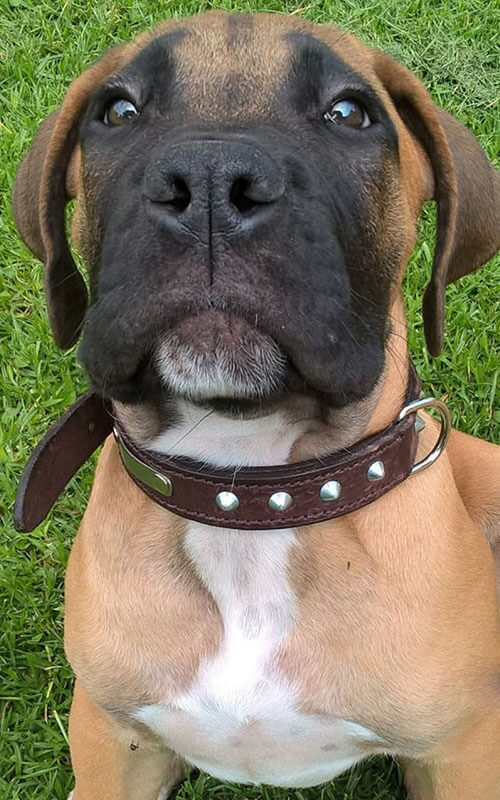 In December 2017 we were devastated when we sadly lost our much-loved male Boerboel, Blade, to Spirocerca Lupi. His absence left a big gap in our lives and after dropping many hints with my husband about getting a smaller breed puppy, such as a PUG, he surprised me one day by bringing home what I now realise has become my new furry BFF. 1 year, 50kgs of growth, buckets full of slobber, 4 pairs of shoes and plenty of torn washing later, I can't imagine my life without him.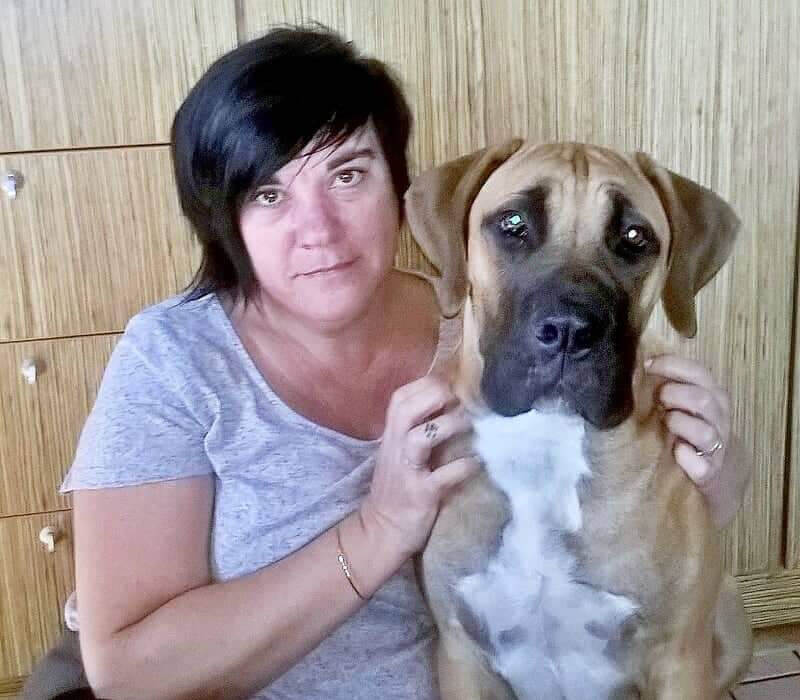 As a kid, I did a bit of dog training with my Dad and our Bullterriers, and I remember how it used put me on a natural high. I live pretty close to Walkerville, and have often driven past the SADTC grounds and looked in longing for the opportunity to train a dog from puppyhood. My own kids have finished school and recently started working/studying, so in an attempt to side-step any feelings of empty-nest syndrome, as soon as Zeus had his final puppy inoculation, I knew exactly where I would be able to spend my time and reignite my love of dog training.
Zeus and I started in the puppy class with Chris and after just a few weeks I was hooked. We are both equally excited to get our Saturday morning fix, albeit that I think he has seriously outgrown my two-seater MX5!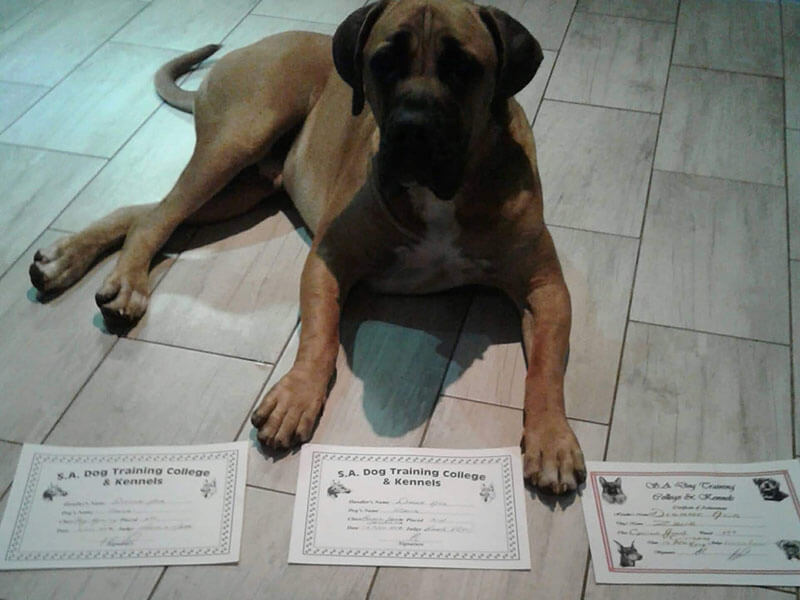 Looking back, I realise that these early puppy classes which included socialisation, moulded his amazing nature with kids and other dogs. The proof of which is his Canine Good Citizen award in November.
Over the months we have progressed up the rungs and currently we participate in Basic Home Obedience with John, and Agility Training with Mark and Lorna. This year we look forward to a new class – Protection Work, and although I am a little nervous of Zeus's strength, I know that I am in good hands with SADTC.
I have learnt that training deeply strengthens the bond between you and your dog, and I'm still learning that size means nothing if you use your voice.
I have registered to attend the Level 1 Instructor Course in March and simply cannot wait to learn even more!
SADTC is an extension of my family and I am super excited to get going again in 2019. (We promise that we have been practicing!)
Training type: Dog Training Henley on Klip
Christopher
Good morning,
I thoroughly enjoyed my first lesson with Chris.
I've been practicing with Kai and he's coming on nicely. I'm really looking forward to Saturday's.
Could I please hassle you for the instructors course information?
Best Regards
Christopher
Training type: Dog Training Benoni
Tarryn
Hi Romayne,
Yes, instructors are all amazing and inspiring.
Tarryn
Training type: Dog Training Mulbarton
Gina
Hi Romayne
I was Extremely satisfied with the training, and Chris, is Great and Very Knowledgeable.
Little Senna, was Petrified before coming to You, and within the very first lessons, He was is Different Dog, so Yes! It Certainly it is Very Important to get the Puppies to Your Lessons.
To All the Team, Keep Up the Great Work!
Regards
Gina
Training type: Dog Training Alberton
Nicky
Good Afternoon
Rowan and I really enjoyed our first class. Chris was really great and so easy to work with. I think it was all very exciting for them as they slept very well after we got home.
Looking forward to next week's class.
Kind Regards
Nicky
Training type: Dog Training Glenvista