Inboard Training (Kennel Training)
If you are interested in dog training, but don't have the time or the inclination, we can do the training for you with Inboard Training (Kennel Training).
Your dog stays with us in our kennels and you can watch him in training at anytime. When you take him home, we will teach you so he accepts your commands and you also get a free lesson to truly understand all that has been taught. We offer obedience and protection if you desire.
Inboard Training (Kennel Training) is by far one of the best courses we offer. It is beneficial to you as we are doing all the hard work for you, and doing the behaviour shaping at the same time. Unless there are serious issues, most dogs only need a week with us. You are welcome to watch your dog in training, just contact us to check what time his training sessions are.
It is vitally important to know what behaviour you are working with and how to shape it into something positive. We have the dog and your best interests at heart, so we get the best out of him so that he is truly a pleasure to have around.
Inboard Training Success Stories
Hungani
The training is coming along. Lexi catches on quicker than Storm but it's given us some fun time with the dogs.
Training type: Inboard Training
Tishka
Good morning Romayne,
I am well thank you, I hope you are too.
Burfee has been doing great. 😊 We've been reinforcing his training everyday since his return and he's doing wonderfully – much calmer!
Thank you so much for your efforts and assistance.
Training type: Inboard Training Lenasia South
Cale
Thanks for the mail, he is doing well thank. We are still doing the training but going fine
Training type: Inboard Training Athol
Nestor
Maximus is doing well the walking on the lead is by far the biggest improvement and I work with him a little bit every day to reinforce what you guys taught him. He hasn't dug up my garden since so that's also a big positive.
Contemplating the protection work will call to discuss this soon.
Training type: Inboard Training Morningside
Gail
We really enjoyed the lesson, it started on time and we received valuable information. Lucy was exhausted afterwards and we also love how she was able to get time to socialise with other puppies.
We are grateful this weeks class will be earlier as last week was so incredibly hot.
Training type: Inboard Training
Esmé
Hi Romayne
Thanks for the time you spent with our dogs and the training you gave them. Spaku is a much calmer dog now. He listens nicely to his commands and executes them well. Grutus just wants to run to the car whenever I pick up his chain. He loves a ride. Jeandré will work with him apart from Spaku.
Thanks again
Esmé
Training type: Inboard Training Glenvista
Irma
Good morning, Maya's training is going very good. She is really well behaved and settled in very nicely. No problems!! She listens when we speak.
Thanks!
Kind regards
Irma
Training type: Inboard Training Alberton
Cindy & Max
They are doing well and seem to be much more disciplined in general.
Really impressed and grateful!
Training type: Inboard Training Meyerton
Deirdre
Hi Christine
Sasha is doing very well. Sits by just saying the word Sit. The laying down is getting better as well. She stays if I say stay and doesn't run over everything in the house. Will keep you updated on her progress.
Training type: Inboard Training Meyersdal
Charl
Titan is doing very well, I have had friends over to my house and they noticed there is a big change in his behaviour, the jumping up is really at a minimum as I have been able to come to work with a clean shirt for more than 2 weeks.
Training type: Inboard Training Vereeniging
Testimonial from Shaun
Hi Christine
Just to echo what Samantha has said and to thank you for efforts invested in Hunter by yourself and team. We do indeed have a different dog as was promised and we are now building on what he learnt
Regards, Shaun
Training type: Inboard Training
Testimonial from Samantha
Hi Christine
The training is going really well. Hunter is responding to all the commands and he is an absolute charm. Matthew is unbelievable with him.
Regards,
Samantha
Training type: Kennel Training
Testimonial from Jenny
A progress report – Blue is behaving so much better, and is much calmer. He was so happy to be back home, and doesn't leave my side –I think he missed us J.
I have been working with him with the commands – sit, stay, wait, down. He obeys 95% of the time.
I have taken him for walks as well. I take him with me on the school drop off run in the morning, and then walk afterwards. I think the car ride uses up some excitement energy, so he is a bit more relaxed when we walk.
On the walks he obeys commands mostly, but I have to repeat the command to make him sit next to me occasionally. (The treats don't work – I think he is too distracted to bother with them). When we encounter other dogs I have made him sit next to me and watch them walk past. The same when we passed a gate with dogs on the other side – I made him sit and allowed him to watch them for a bit, and then moved on.
I think he has made real progress and am so pleased he spent the week with you getting the basics ingrained.
Best regards
Jenny
Training type: Kennel Training
Testimonial from Samantha
Dear Chris and Christine
Thank you so much for training Nala this week. We went on a walk and up to the shops and she did so much better than before particularly with aggression to people. I was quite relieved.
Please send me the info about the three month class and any other training that you think would be appropriate or of interest.
Thank you again for your help.
Best,
Samantha
Training type: Inboard (Kennel) Training
SA Dog Training College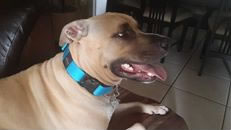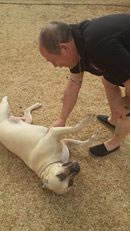 Vader home now after attending training and kennels for 10 days while we were on holiday. We are so thankful to Chris and Christine and other trainers for all the hard work and effort they placed into Vader while on his summer camp.
We cant believe the difference in him. Loads more self confidence and less aggressive towards other dogs. Walking like a champ. Made a friend with a pug while on our walk yesterday. Mom and Vader will be joining classes from Nov so as to build Moms confidence up as well and learn what his learned.
We are so impressed with the training and facilities and the care and love they have in there hearts for all the dogs. Thanks again from the bottom of our hearts. Robert and Gail and of course Vader-pitty 2,5 years old.
Training type: Inboard (Kennel) Training
Testimonial from Dalena
Hi Christine
I want to thank you for training Simba, we began training the minute he came home (my cat even came over, Simba was on the lead) and he was mostly well behaved although he seems to fixate on the cats, but if I call his name or wave dry wors under his nose it works most times, but not always. Grace has walked around her garden without the rake, we have had strangers in the house and he has been as good as gold. He takes advantage of Grace at times but there has been a HUGE improvement so thanks once again!!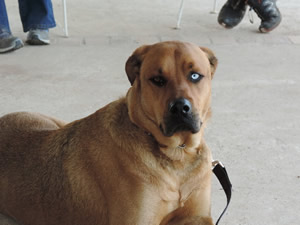 Grace is training Simba and I told her that she is going to have to eat up so that if he takes off down the garden with her she won't become a human parachute! I am still training Simba every day as well and yesterday I had him on the lead in Grace's lounge while two black guys and one white guy were in and out right in front of him and he behaved very well. He seems much calmer, maybe he likes humans to be in charge after all!
Grace said that when we left with Simba one of the girls cried too and one of the guys told me that he would love to have Simba! There is definitely something very appealing about the dog even if he is so frustrating at times. He is a lovely dog and to think that somebody was just going to chuck him out is unbelievable.
Thanks once again and see you soon.
Kind regards
Dalena
Training type: Inboard Training
Contact us today to make a booking for inboard training.