Detection Training
SA Dog Training College offers Detection Training courses, this is specialised training in personal protection, drugs and explosives detection for patrol dogs. Contact us for questions or bookings.
Success Stories
G
'J' and 'G' the Anti-poaching detection dog.
Today 'G' and my Anti-Poaching unit and the Park's board, did a search for game meat and Rhino horn. G was 100% in every room searched, she also did one outside where we found a plastic bag with blood. Her indicating was so spot on. We found a lot of meat. Mostly it was elephant meat and one blue wildebeest meat. Some were dry and others were wet.
Later we did found out that the elephant was shot about 2 week's ago.
The blue wildebeest had a broken leg, so they did put him out 3 day's ago.
I'm very happy and proud of you 'G' and my Anti-Poaching unit field rangers.
Training type: Anti-Poaching Detection Dog
Detection Level Two March 2015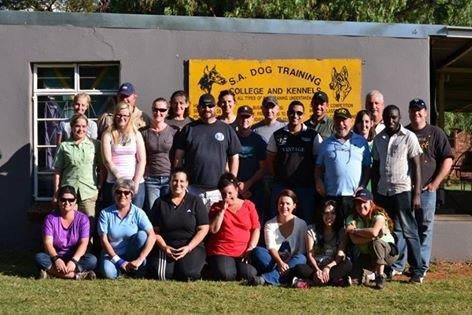 Girard Bradshaw (black shirt and cap, centre of pic,) presented seminars at S.A.D.T.C. they were a huge success once again.
Sonja
Morning
I felt the training was professionally presented and well prepared. I appreciated that each dog got individual attention and was allowed to work at it's own level and pace. The atmosphere was open and friendly and the presenter approachable. I would like to see a demonstration of the end product we are aiming for if possible. Thank you for the advice about my dominant male shepherd.Please add me to your mailing list for any future classes, particularly obedience.
Looking forward to next time!
Regards, Sonja