Yolanda & Lucy
What a humbling yet exciting privilege it is for Lucy to be nominated as dog of the month. Our story is a journey of dedication, perseverance and overcoming individual obstacles, fears and difficulties. Our story starts at chapter 1 as usual but with a twist. My dad was invited to take a puppy from a litter of x border collie pups. Mom a working dog on a plot nearby. We were told that they are getting rid of the pups, one way or the other (if you know what I mean) So Dad decided to get the little red one. We were told that she is 8 weeks old. But from pics included and education I now know she was taken at a very young age. She didn't get any imprinting a young pup needs. But little did we know these things. We took her home and that is how the journey starts with my Dad as her owner.
Chapter 2
Seeing dogs at wodac doing some agility and other exercises, I finally convinced my dad that Lucy is a high energy dog and we need to train her. I started looking for some sort of training where I can teach dogs tricks like what they showed on Expresso that time. Which was 2015. I finally came across SADTC. (Where I enrolled for instructor course level 1 a little bit later.) I saw how awesome it looked to have a trained dog. Never training a dog in my life. We started Bho In April 2015.
Chapter 3
Realizing it is not as easy as it seems.
What a nightmare. Lucy would not have a collar around her neck let alone the leash clipped on. She was as nervous as could be and lashed out to any dog near us. She was fearful to people and I literally had to carry her where I wanted her. Resulting in us standing far away from everyone and standing in the end of class line to avoid any nervousness. Words cannot explain how many times I wanted to give up. I was crying in most of the classes, either during or after or even both. But then after pressing through, Things started to change and Lucy chose me to be her caretaker. Now she is my dog.
Chapter 4
The big change.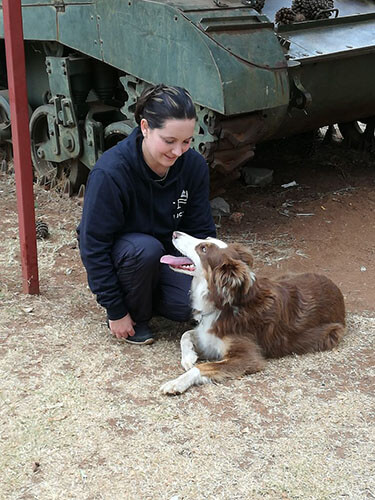 We could actually sit between people in the clubhouse provided the dogs do not make direct eye contact. Wow! We then did some socialization with some of the placid dogs at school. We waited till every one went home and under the watchful eye of Chris. We let the dogs out. I think I was more nervous than anything else. But it worked.
Chapter 5
Building confidence.
Being the nervous dog that Lucy is, we decided to build some confidence. She would not tolerate me being more than 1 step away from her. They call it Velcro collie. Frustrating if you think of obedience recall, retrieve and most of all stays. We tried agility for a start. Starting with baby steps. First showing her that this thing will not hurt her or separate her from me. She loved it!
Chapter 6
Adding other classes.
Lucy was crawling out her shell and I decided to give other classes a go. We did detection for a while but she got bored to quick. One day we sat at clubhouse watching the protection work, and all of a sudden she jumps up and barks at the decoy. What was this? A border collie who wanted to be a police dog! So. We gave her a turn. Her second favorite class now. This built her confidence even more and I was able to take her out to parks and walks with no worries. We even did a fun day at Gilhooleys with dogs she did not know. Makes me so proud of her.
Chapter 7
Mutual growth and bonding.
Doing dog training with Lucy has not only been challenging in a training perspective but has been challenging personally as well. The two of us growing from 2 separate nervous wrecks, building and working at each other to become what we are today. More confident, more educated and ready to take on any challenge. Being able to walk on and off leash, walking between dogs at clubhouse, greeting certain dogs and people this is what Our Sadtc family helped us achieve.
Chapter 8
2018.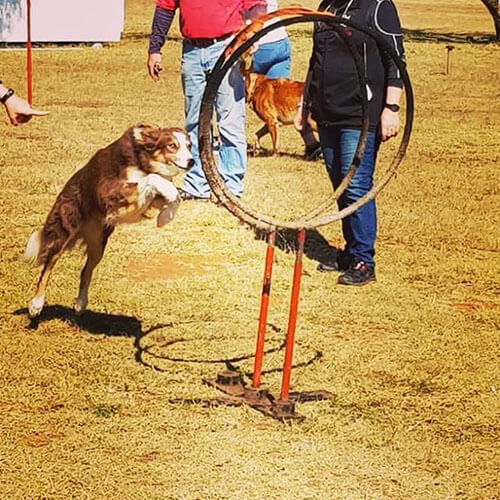 I am tremendously proud of my little girl Lucy. Changing my life for the better. I would always be grateful for your sloppy kisses and your hair al over my clothes and bed. With all the challenges we have to face I could not imagine it without you my little therapist. Listening to me when I'm sad and bringing the ball so we can go and play and forget about life for a while. We achieved so much together.
4 years of blood, sweat and lots of tears. She might not be an obedience champ. But she is my champ! Loving agility and protection work like she was born for it. I love spending my time with her doing fun stuff or just chilling. I learned that border collies are very versatile contrary to popular belief that they are only herding dogs. They make great detection dogs, and really good companions given that you meet their high energy level needs. They have a way of giving you a certain look, or bark and you better start throwing the ball or there's trouble. The collie stare is one of their trademarks and they use it wisely. So be warned, they can get you to do anything.
Finally Getting our awards this year for 1st in advance agility. Was beyond amazing and shows what hard work and perseverance can achieve. In Afrikaans there is a saying : AANHOUER WEN!
Thank you to all the amazing instructors and friends at SADTC for all the help support and education we received. Lucy also received best all rounder for the year thanks to all who did not give up on us. SADTC is more than a dog school. It's a support system where friends become family. I love you all.
Training type: Dog Agility Training Germiston