Iryna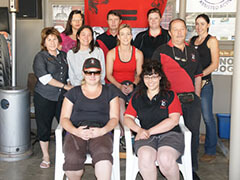 Dear Christine
I wanna share that story with you I can't stop smiling! My girl Sheela before we went for a course was the sweetest teddy bear love everybody , especially my landlords when I'm not at home working long dbl shift at a restaurant they use to play with her teaching her bad habits like jumping on ppl and eat from the ground. I was no happy about it but nothing I could do I work hectic hours… Since we back home from the course my girl is changed! My landlady told me Sheela does not come out of cottage when I'm not at home and today was classic – I'm at work , my landlord smsed me and ask if he can come in to my place and fetch something I say yes of course !
Is normal I've been living there for 9 years I trust him!
5min later my landlord sms me saying: "little S#$t (Sheela) growled at him and won't let him in!!!!! " Lol. I just wanna say THANK YOU SO SO MUCH!!!
You work is amazing! I wanna continue protection work with my girl I think she gonna b amazing!
Loads of love kind regards
Iryna
Training type: Dog Instructor Class Gauteng | Dog Instructor Class Gauteng Level 2