Bacci & Paollino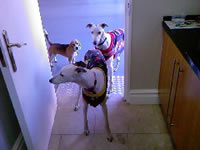 Bacci & Paollino were both devious thieves who spent all day running around their owner's massive property. The female Bacci was more excitable than the male. They both jumped up on visitors. They seemed to behave when the Manager of the farm was around, but when she was not there they were incredibly naughty. The female is very intelligent, but she distrusts humans immensely. The Manager stated that SADTC would understand dog psyche more than she would, and hoped that the dogs could be re-trained!
I would just like to give you a little feedback on the brats!!! Well they aren't such brats anymore. Today the dog washers came – it was their first bath since leaving your care. Paollino was a breeze. He behaved immaculately and was easy to handle and catch. Bacci, in fact wasn't much different to him. She behaved very well until the last few minutes when she snapped at the handler who was bathing her, while she was trying to clip her front nails. She didn't seem to like her foot being picked up, as opposed to the actual clipping. Peter and I distracted her and rewarded and praised any good behaviour and positive attitude and then she calmed down a lot and accepted the work on her front feet. I am VERY pleased with how they are coming along. They do not skulk into the house anymore and steal things. They do not steal food from the maids quarters anymore. The dogs' mealtimes are more relaxed, and they are eating better – Bacci has put on a lot of weight J
They were both treated to pretty new collars – Bacci has a bright pink, and Paollino with a bright blue one. I spend a good 10 minutes with them each day, although it's not always obedience training, praising good behaviour, making them sit and lay down etc. They enjoy the interaction and almost do tricks just to try and please me! It's great, and I am actually slowly starting to like them. I was just indifferent to them in the past. But now they greet me properly, with respect and are very calm.
The greyhounds are doing very, very well. I have really bonded with them now and they treat me very respectfully. When they come to greet me, they turn around in front of me and sit or lie down without being asked. I think that is quite good, because it seems to me that they are settled. They do not hassle guests anymore, they play gently with Bella (the Beagle in the photo), and they have stopped stealing so much! When Peter went away on long term sick leave, another chap David took over the feeding duties, and the dogs also bonded with David. However, when Peter came back the dogs didn't quite know what to do. But now they have actually spilt up (we were gob smacked!!!), and the female, Bacci spends her whole day with David. Paolino has decided to stay with Peter. So for most of the day they are apart, which I think has benefited them greatly.
Thank you so very much for the work that you and your family did with our dogs. It has made our lives easier, but their lives much nicer as well, as they interact properly with people now! It was of course you that set the ball rolling, so we are very grateful!!!
Kinds Regards
Ashleig
Training type: Greyhound Obedience Training