Sam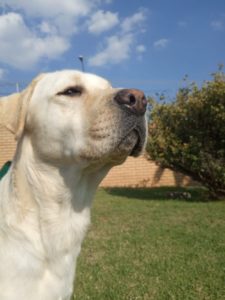 We rescued Sam from the Booysens SPCA about 4 months ago. My wife had gone there to enquire about some medication and decided to have a look around the kennels. As soon as she saw Sam, she wanted him! Knowing I didn't want any more dogs, (we already have one chocolate Lab at home), she asked Charmaine (who works at the SPCA and also trains here at SADTC) to put him in the run so she could take a photo of him. My wife thought then that he may be deaf as he didn't respond to any calls. She talked me into looking at him and despite her telling me that I would have to walk him (she was going for a knee replacement) and also train him, I decided to take him as he looked like a good dog. The vet at the SPCA checked him out and confirmed he was deaf.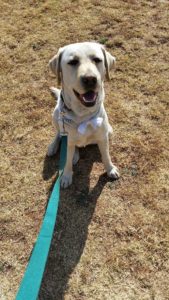 We decided that a bit of training would be of benefit, even though he was a gentle and calm dog, so we joined the beginner class at SADTC. The training was pretty much the same for him as for the hearing dogs – the hardest part was attracting his attention if he is not looking in my direction. But being a Labrador, F O O D came to the rescue, and as he loves food (especially Woolworths meat pies stolen whilst being defrosted outside), as long as I had food in my hand he would do anything I asked of him! So after three months of training with the help of Sandra our instructor at SADTC, he had learned all the basic commands and walks on the lead quite nicely. He is doing very well at home and has adjusted to his new routine, and loves going for his morning walks around Jackson Street dam.
We don't know much about his previous history, only that he was rescued from a property where he and other dogs had been abandoned. He was a bit thin when we got him but was in good condition otherwise.
I must say that having a deaf dog is no more difficult than having a hearing dog. You just have to be careful when maneuvering the cars, and making sure he doesn't get a chance to run out of the gate, but he gets up to the same mischief as any other dog. Sam is a wonderful addition to our family. My wife kisses him more than she kisses me!
Regards
John Woolway
Training type: Dog Training Alberton