Charlie
DOG OF THE MONTH: CHARLIE (Breed: Labrador X)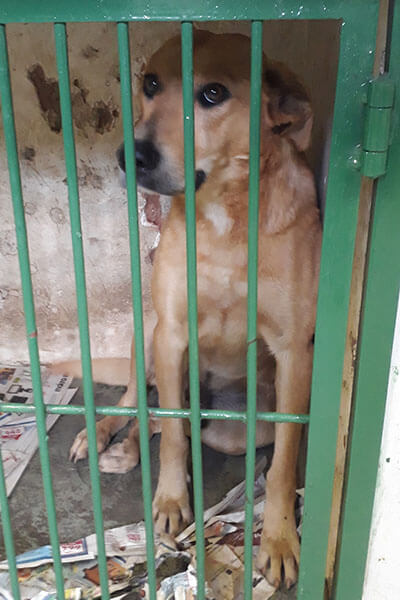 On 10th April 2019 at 9am our family friend, Jackie the Jack Russel, died at the old age of 17 years. At 4pm that afternoon as I was driving home from work a message came through on our street group chat that there was a lost dog in our road and that it had been lying in front of a yard in our street since the morning and had not moved. I drove past the house (2 houses away from our home) and saw a miserable looking brown dog there. I went home and told my mom that the least we could do was to give Jackie's food to this dog and give him a warm bed for the night and then take him to the pound the next day.
We went across the road with a leash – his tail started wagging, he got up and approached us as if to say "where the hell have you been?". He did not hesitate and walked home with us where he was fed, given water and a warm blanket to sleep on. He was very shy. Very skinny and tick infested. That was a Wednesday. We could only take him to the pound on the Friday so he got to spend two nights with us. During this time my mom looked after him during the day and started removing ticks from his ears – but it was so much, the more she removed the more they appeared. It was really bad. He was biting the ticks off his body. Yet, as he lay there at night and we sat next to him rubbing his head he would look at us and wag his tail. This is when he crept into my heart and our journey started.
He was taken to the Animal Anti-Cruelty League (AACL) Johannesburg on the Friday (I decided to do the adoption properly and go through the 14 day pound period) – he was so nervous that he even pooped in the bakkie. At the AACL he put on his brake pads at the door and they had to carry him in. We completed the forms making sure that if he was unclaimed, we would have first option for adoption. I couldn't wait 14 days and that very next morning, the Saturday, I was there to pay him a visit. There he was in the hospital waiting to be medically checked, in a small cage. His eyes were brown and big and I cried for a long time that day – he really did not know what he had done wrong. So, I marked the calendar, 14 days it would be.
In the meantime, we filled out the adoption forms and got the home check done. All good to go. However, during the 14 day period he was moved from the hospital to the kennels and placed with a German Shephard – they had a terrible fight and he was back in the hospital for wounds to his neck, throat and shoulder. The 14 days was extended to ensure that he had recovered from this ordeal. We went to visit him again during this time and he was in good spirits in the hospital with a cat in a cage above him as his friend. All this time I waited.
Finally, the day came that I was told that he had remained unclaimed, he had been vaccinated, sterilised, microchipped and his wounds had healed – I could fetch him. On the 3rd May 2019, on my birthday, I got one of my most treasured birthday presents that I can remember, Charlie.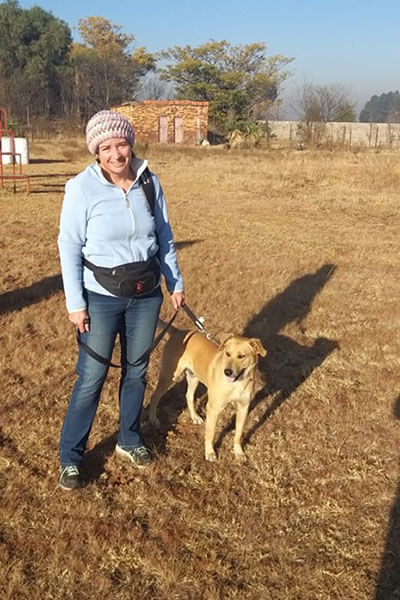 In the meantime, while I was waiting for all of this to happen, I decided to enquire about dog training schools – I didn't know Charlie's history and his obedience and because we love running, walking, fishing and camping I couldn't see myself leaving the poor guy at home whenever we went away. I was scared that he would take the road as soon as he had an opportunity to do so. Plus, my mom was looking to adopt a Jack Russel again and I needed to know that he would be social with the new addition to the family. Training was not an option, it was a must. I made a few enquiries and one dog training school told me that Charlie was too old, the AACL estimated him to be 4 years old. Another dog training school just never responded. The only one that seemed interested in helping me out with Charlie was SADTC. I got an immediate response from Romayne who took the time to explain to me that they have trained many rescue dogs and furthermore that a Labrador is actually an intelligent breed and that I would have no issues training him.
So, on the 3rd May 2019, on my birthday, I got my birthday present in the form of a living creature AND I signed him up for the 12 week basic home obedience course at SADTC to start in June.
Our first lesson was weird: first we could not get him into the car. He put on his brake pads again and we had to carry him into the car. He got car sick. But once at the school he was quite excited – seeing dogs around him and all that sniffing and so many friendly faces.
Biata gave him his first treat and he fell in love with her immediately. It was all new to both me and Charlie – sit, down – I learnt that a dog can count to 4 – "Charlie sit…sit…sit…SIT!". I also realised that I needed to learn my left from my right again as Mark took us on left turns and right turns. Poor Charlie didn't know what he had to do as we turned in the opposite direction to all his class mates.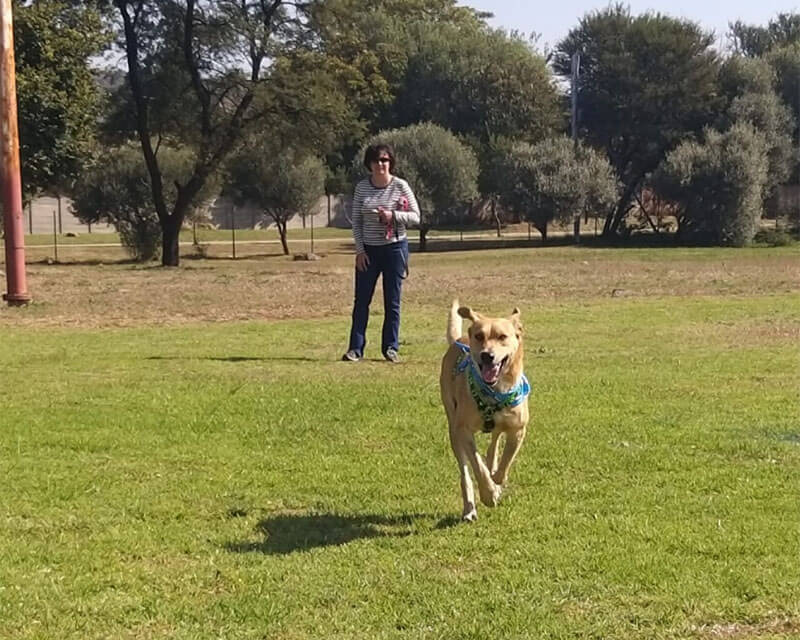 We are now going into our last few weeks of training and my best friend's personality is just shining right through. He no longer worries about the car: as soon as that door is open and the car seat cover is on – he is in there waiting for us. He no longer bounces around on the back seat like a nervous wreck, he sits calmly watching out the window. He is so excited to go road tripping whether it be to the school or to our weekend walks. We are now at that point where he will 'sit' at the number one count and no longer at number 4 count and he can actually stay 'down' and he is learning to walk so nicely at heel when we go to the park. The best is when we go to our favourite pub, he goes with us, and he is so good. He bothers nobody and is such a pleasure to take with and we get so many compliments!
Yolande taught us a sniffing game with boxes – where we hide the Magic Mouse and a piece of liver under a box and he finds it. This is his favourite game. He just loves playing and being kept busy. My Saturdays are now Charlie's Saturdays and I see us doing this for a while still to come. There is still a lot of work and a lot of practice and a huge amount of patience.
Where do I want to be with Charlie one day? I want to be able to go camping with him and walk to the ablution blocks with him by my side with no leash, then telling him to wait for me at the door and when I come out, he is there waiting for me. We want to go fishing with him and spend the day in front of the river with him close by and not running away. That is what I want to do with Charlie and the only way to do it is to continue training and to continue practicing – the biggest part of this course is the homework.
You cannot expect to get the results you want if you don't practice and you don't have patience. The bond that is developing between me and Charlie (because of the training) is unbreakable and the more we learn from each other, through the training, the more we become closer and closer. At SADTC it is not just about getting your dog to be a "good dog", it is also about getting to know your dog, to understand your dog and above all, to know why are you teaching your dog the way you do. There is always an explanation with every command.
My story of Charlie is similar to that of a Dog's Purpose – Jackie died and she sent a skinny, brown, long legged dog to our home. He had a bit of the coordinates wrong and ended up two houses away, but he waited, just as she had told him to. After that, everything just fell into place. I am happy to say that this journey has no ending.
Training type: Dog Training Meredale